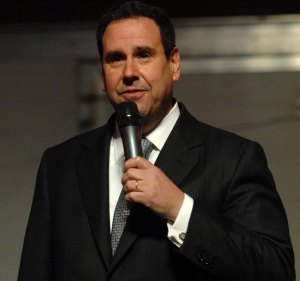 "This is an evening I like to call Saks and the City!" said Mayor Michael Bloomberg, who was on hand to honor Saks CEO Steve Sadove during a fund-raising gala for the Fashion Institute of Technology at Cipriani 42nd Street on Thursday, March 19. "I had to work at that," Hizzoner then added, sheepishly.
Mr. Sadove, a Saks exec since 2002 and CEO since 2007, received an award for his support of fashion education. Two years ago, he presented a commencement speech to the school's graduating class. "I'm not the best at being funny so I usually have a more serious tone, but I love giving advice and being a mentor to students," he told the Daily Transom.
The recognition must have come as a welcome respite from all the bad news surrounding Mr. Sadove's industry. Just last month, Saks posted a fourth-quarter loss of $98.8 million.
"We've gone from a really high-growth company to focusing on our balance sheet," Mr. Sadove said. "My day to day? I was working hard before, I'm working harder now and making less."
What advice does the CEO have for aspiring designers amid this sluggish world economic situation? "It's a tough environment and we all have to hunker down," Mr. Sadove said. "I don't have any great advice, but people should take internships, take unpaid positions, network, and find any opportunity they can."
Among the many FIT faculty members, Saks executives and fashion students in attendance, the designer Jason Wu, who this year was nudged to the front of the fashion stage with his stunning inaugural gown for first lady Michelle Obama, was feeling sentimental.
"You know, I really miss being a student sometimes," Mr. Wu said, right after a couple of overeager FIT students interviewed him for the school's Web site. "You just go into a studio and create; you don't really have to worry about anything. I really miss painting as well. I just don't get to sit down and just paint something anymore."
The Daily Transom reminded the 26-year-old designer that, despite his sophisticated aesthetic and sudden stardom, his student days at Parsons were not that long ago. Was there anything he created in school that he would be embarrassed to have surface now? "I made a hoodie for myself once."
A hoodie?
"It was practice!" he explained. "It was just a black hoodie, but I think I've refined my sewing skills significantly since then."
Nearby, Carolina Herrera was posing for photographs with Mr. Sadove. "We've known each other for many years," she said.
While Mr. Herrera's sewing days are far behind her, we wondered if she had any wisdom to bestow on this year's graduating FIT students.
"What would I say? Try to make beautiful things and sell them," she said. "That's the most important thing."