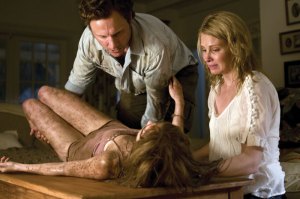 Is there a conspiracy out there among filmmakers to ensure that none of us will leave the city for a quaint country house ever again? Last year we got scared into the next horizon watching The Strangers (random people coming to a young couple's house in the middle of night, terrorizing them, and then the inevitable stab-stab-stab) and the remake of Michael Haneke's Funny Games (random people coming to a family's vacation home, terrorizing them before the inevitable massacre). Now we have The Last House on the Left, a remake of the 1972 Wes Craven cult classic that has just about the grossest Wikipedia entry we've ever seen. (Seriously, take a look … anytime "disembowel" is used, you know it's not a good time.)
In the 2009 version, the Collingwood family leaves the city for their—you guessed it!—lake house out in the middle of nowhere. There's Dad (Tony Goldwyn, who apparently never ages) and Mom (Monica Potter) and their daughter Mari, played by the beautiful young Sara Paxton. Though the film never delves too deeply into it, each member of the family is dealing in their own way with the grief over their oldest son's death the previous year. Mari is restless and takes off to meet up with a local friend named Paige (changed, shamefully, from the 1972 original's "Phyllis"). The girls, in tiny shorts most parents we know wouldn't have let us leave the house in, meet up with a strange and shy boy named Justin (Spencer Treat Clark, the little kid from Unbreakable all grown up) who invites them back to his hotel to smoke some weed. And from there they meet Justin's family—his escaped-convict father Krug (John From Cincinnati's Garret Dillahunt), Uncle Francis (Aaron Paul) and a wackadoo named Sadie (Riki Lindhome)—and are informed that they are basically done for. And then the terrorizing begins!
Look, we get that horror movies fulfill a basic human desire to be scared out of our wits, to look at the most horrible things imaginable and watch people get through them, with or without chain saws. This movie does an excellent job in building suspense (we tasted the turtleneck of our sweater for two-thirds of the whole movie) and actually trying to develop a character or two with some shades of gray. Our main issue had to do with the weird sexualizing of Mari, through both the many lingering shots of her taking off her shirt and shorts, and a rape scene that seems to be filmed in real time (read: ick). And even though he's the bad guy, we love us some Garret Dillahunt, and it sure was nice to see Monica Potter back on the big screen. Plus, it's always great to see dads get revenge (and we don't mean Krug). Happy Friday the 13th!
The Last House on the Left opens Friday at AMC Kips Bay, AMC 84th Street and Union Square Theaters.
svilkomerson@observer.com