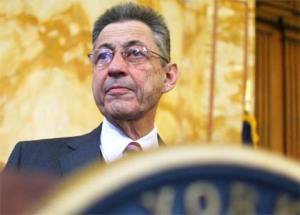 ALBANY—The point was raised in his article this morning, but columnist Jay Gallagher just asked Assembly Speaker Sheldon Silver point-blank whether the decision to bypass conference committees for the state budget violates a budget-reform law passed in 2007.
"If there are no differences then the act doesn't require you to hold conference committees because you're in agreement," Silver replied. "What is required is, when both houses pass different budgets, they are required to go to conference committees to iron out their differences. If both houses pass the same budget, if both houses pass the same bill at any time, there is nothing to conference."
So if the differences are worked out in private, they aren't true differences. Silver boasted that this is how the issue of nuisance taxes was resolved yesterday. Isn't that significantly less transparent, Gallagher asked?
"Absolutely not. The economic crisis has been more transparent this year than ever before. From here, from the governor. You've heard from Washington, you've heard from the Congress, it is front page every day for six months."
Republicans have been howling about this, particularly members of the State Senate, since it came out yesterday that the Assembly and Senate would not pass one-house budgets.
State Senator Dale Volker, who has been around for quite some time, told me that in the past, "decisions were made by the conference committees and leaders had to eat it."
"To say that since the Democrats have taken over, that we don't need conference committees, is ridiculous," he said.