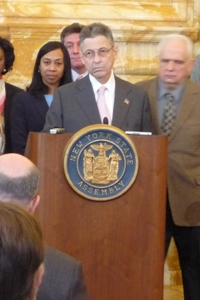 ALBANY—Assembly Speaker Sheldon Silver just said at a press conference his chamber will pass a one-house budget next week. But he stopped short of saying whether it would include a tax on high-income earners.
Let's see if we can't reach a conclusion ourselves about whether the Assembly Democrats will end up proposing such a tax:
1) The Assembly has passed a millionaire's tax in the past.
2) Silver thinks there needs to be some sort of revenue to bridge the budget deficit.
3) The governor agrees. He proposed lots of little revenue measures.
4) Some of those revenue measures are "acceptable," some are "unacceptable," according to Silver.
5) When necessary, the Assembly will "substitute" other revenue measures.
6) Silver declined to elaborateon what those measures could be.
7) See point (1).