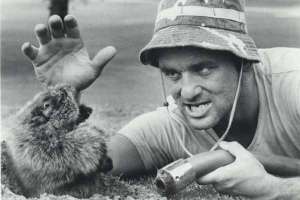 It's 2 a.m. and you awake with a jerk, alone in your fully lit apartment and still on the couch. On TV, the credits of some movie you've already seen a billion times are scrolling by. It feels like rock bottom. And we know, because we're just like you: single.
Need a movie to keep you company until you literally can't keep your eyes open? Join us tonight when we pass out to Caddyshack [starting @ 10:15 p.m. on AMC]
Why we'll try to stay up and watch it: After staying up last week to catch The Life Aquatic, it might seem like we're on a total Bill Murray kick—we even re-watched The Royal Tenenbaums over the weekend—but, if we're being honest, Mr. Murray is probably the fourth funniest person in Caddyshack. And considering his character provides some of the most quoted lines in the history of college fraternities, that's saying something. No, Caddyshack isn't just merely a "Bill Murray movie"—it's an amalgam of old and new school comedic ideals, pasted together with nothing more than spit and glue.
That Caddyshack ended up working at all probably seemed improbable during filming. The original script, co-written by Bill Murray's actor brother Brian, was focused on the caddies and their day-to-day life at Bushwood Country Club. (We can hear you yawning from here.) That version of Caddyshack exists in some alternate reality, where the gawky Michael O'Keefe is the star and Chevy Chase, Rodney Dangerfield and Mr. Murray are all stuck with cameo appearances. Thankfully, Harold Ramis, making his directorial debut, realized that the funniest parts of Caddyshack actually resided in those cameos, and built the entire movie around them.
And so the end result is rough around the edges and filled with warring sensibilities. On one side, there's Mr. Chase, smirking at anything that moves; on the other, Mr. Dangerfield is doing his best Henny Youngman impression. At times, Caddyshack feels like a Friday night at the UCB Theater: The whole barely holds together, yet the individual parts are utterly hilarious. The quintessential needle drop movie, Caddyshack may have been the first comedy to admit that sometimes a coherent plot can get in the way of a great joke.
When we'll probably fall asleep: Since we could probably recite Caddyshack line-by-line—seriously, we've seen this thing thirty times—there is no reason to stay up until the end. So we'll make it through just 23 minutes, when the flabbergasted Judge Smails (played by the flabbergasted Ted Knight) tells Mr. Dangerfield's Al Czervik to stop playing Journey's "Anyway You Want It" in the middle of the golf course. Legend has it that the former Ted Baxter spent the length of the shoot upset with the improvisational nature on the set, and bristled at the reduced role it left him with. We'd like to think this was all a ploy on the part of Mr. Ramis to get the best out of Mr. Knight, but, even if it wasn't, the trick worked: Mr. Knight acts so cranky and demonstrative throughout that he steals the entire movie from his Not-Ready-for-Primetime co-stars.