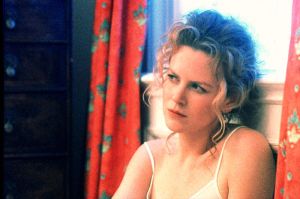 It's 2 a.m. and you awake with a jerk, alone in your fully lit apartment and still on the couch. On TV, the credits of some movie you've already seen a billion times are scrolling by. It feels like rock bottom. And we know, because we're just like you: single.
Need a movie to keep you company until you literally can't keep your eyes open? Join us tonight when we pass out to Eyes Wide Shut [starting @ 10 p.m. on Starz Cinema]
Why we'll try to stay up and watch it: In more hyperbolic circles, Eyes Wide Shut is the movie that killed Stanley Kubrick. The isolated and meticulous director spent over 400 days shooting the film, ran through a number of actors and had to work with what was, at the time, the biggest star-couple on the planet: Tom Cruise and Nicole Kidman. That he managed to turn in a final cut three days before suffering a massive and fatal heart attack in his sleep is a testament to his commitment to the project. It's quite possible that under those circumstances a lesser director would have passed on long before its completion.
Let's state right off: Eyes Wide Shut isn't that good, but time has been kind to what ended up being Mr. Kubrick's last film. Perhaps in deference to that, both critics and other filmmakers (including Martin Scorsese) seem to treat it with kid gloves, bending over backwards to proclaim that Eyes Wide Shut really was this amazing and misunderstood piece of art. And while that might be true—as with all of his films, Mr. Kubrick's sense of mise-en-scène is unmatched and the film is absolutely gorgeous—Eyes Wide Shut as a narrative is, more often than not, a laborious endeavor. It's talky, slow and, despite possessing loads of nudity and sex, clinical and decidedly unsexy. Of the latter statement, perhaps that was the whole point. Eyes Wide Shut isn't necessarily a film about sex—it's about inertia, routine and keeping our hearts' desires hidden from even those who we ostensibly love most of all.
This is dicey material for a summer blockbuster starring Mr. Cruise, so belated kudos must go to the Warner Brothers marketing team. Though Eyes Wide Shut topped out at $55 million at the box office, the fact it made even half of that is a minor miracle. We can still remember sitting in the theater on opening night—the coughing, the creaking sounds of people shifting in their seats, the uncomfortable silences. By the time the credits rolled, you could just feel the hate in the room. Ten years later, Eyes Wide Shut is still a polarizing mess, but to honor the 10th anniversary of Mr. Kubrick's death, it's worth watching again.
When we'll probably fall asleep: Harvey Keitel was originally cast as Victor Ziegler, the shady businessman who brings Mr. Cruise into the world of sexual depravity and orgies that make up most of the film. However, the shoot lasted for such a long time that Mr. Keitel had to move onto his next project and Sydney Pollack wound up replacing him. We're not sure what Mr. Keitel would have done with the role, but we imagine he would have been blunt like the blow from a sledgehammer; Mr. Pollack, on the other hand, makes Victor into the type of smarmy, no-nonsense pragmatist that was the director's hallmark as an actor. So we'll stick around for more than two hours, through the blocked out sex and dissonant piano notes, and make it until midnight, when Mr. Pollack blows Mr. Cruise off the screen with some tell-it-like-it-is gusto. No one held a tumbler of scotch like Sydney.