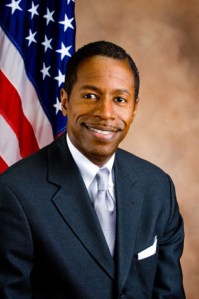 ALBANY—Malcolm Smith will head to Washington tomorrow to meet with President Obama and Vice President Joe Biden.
Smith last went to Washington about a month ago, and tomorrow's trip is to attend a meeting called by the National Conference of State Legislatures, according to spokesman Austin Shafran. Last week, Smith and other leaders agreed to use some stimulus money provided through the FMAP program to take proposed nuisance taxes off the table. President Obama said he had hoped states would use that money to prevent health cuts.
Smith and legislative leaders from other states will also meet with Transportation Secretary Ray LaHood and Valerie Jarrett, one of Obama's senior advisers.