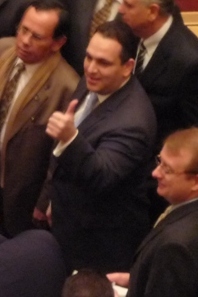 ALBANY—The official word from Senate Majority Leader Malcolm Smith on the felony indictment of one of his members is: he's going to conference on it.
"He was just indicted a couple hours ago, we just found out about it today," said Smith spokesman Austin Shafran. "That's what needs to be discussed within the conference. We're not going to be going to be commenting until the conference has had a chance to weigh in with each other."
There is, of course, a week until the budget is due, and the fact that the possibility that Monserrate would be indicted has been looming since shortly after he was elected to the Senate. In exchange for chairmanship of the Consumer Protection Committee, Smith got Monserrate to agree to defer the lulu normally awarded for the position until after his case is resolved, but no further action was taken against him, despite the wishes of Republican State Senator Marty Golden and others. Smith even feted Monserrate at a recent fundraiser. If Monserrate is mired in a court proceedings (which might prevent him from voting in Albany) or convicted of a felony and forced to resign, the Democrats' margin in the chamber will drop to one vote.
Is is unclear if Monserrate will attend the conferencing.
"I'm not going to comment on any specific actions that may or may not be taken with relation to Senator Monserrate," Shafran said. "But it is something that would fall within the purview of the conference to be discussed."