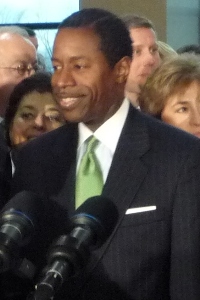 Read into this what you will about the state of budget negotiations: Senate Majority Leader Malcolm Smith is leaving Albany for a fund-raiser tonight in Jamaica.
Spokesman Travis Proulx said the event, which starts at 7 p.m. at Antun's Restaurant, commemorates the ninth anniversary of Smith's first election. The cost is $75 per person. Smith flew from Albany to Queens in a flight paid for with campaign funds.
State Senator Ruth Hassell-Thompson was scheduled to be feted by Majority Leader Malcolm Smith tonight at a fund-raiser at the Pelham/Split Rock Golf Course in the Bronx. Smith will not be attending, Proulx said.
Hassell-Thompson, who stood behind Smith earlier today during a press conference to announce a re-structuring of the state's drug laws, is charging $250 a head.