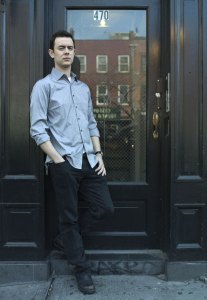 On a recent cold and sleety Sunday afternoon, an impatient line of sports-coat–wearing men and their fur-clad companions pushed their way into the Eugene O'Neill Theater for a 3 p.m. matinee preview of 33 Variations. Written and directed by Moisés Kaufman, the play—an inventive and meditative look at music, parenthood and obsession spanning 200 years—doesn't officially open until March 9, but the theater was nevertheless packed. Jane Fonda is the main marquee attraction, and when she strode onto the stage, the 71-year-old actress (who, by the way, still has legs to kill for) was greeted with a warm welcome of applause. Moments later, a tall, slender and boyishly handsome man appeared stage left. He spoke his first few lines, and from within the orchestra seats heads tilted, eyes squinted. There was something awfully familiar about that voice … that cadence to his delivery. "That's the Hanks boy," came a whisper from somewhere in the back.
But if, to some theatergoers, Colin Hanks starts the play as "Tom Hanks' son," he'll be his own man by the time he takes his curtain call. Mr. Hanks quietly shines onstage, with a loose-limbed lanky warmth and comic timing that holds your gaze, even among an impressive cast that, in addition to Ms. Fonda, includes Zack Grenier, Samantha Mathis, Erik Steele, Don Amendolia and pianist Diane Walsh. He's clearly having a ball up there, and it is infectious.
A few days later, Mr. Hanks slipped into a nondescript coffee shop near the theater in Times Square. The 31-year-old looked like your basic cute-boy Manhattanite, in a heavy coat and thick tortoise-shell–framed glasses. He rode the subway up from his West Village apartment unnoticed—in fact, he said, he's hardly ever bothered by strangers—despite increasingly prominent roles throughout the past decade, in teen-TV-favorite Roswell; in movies including Orange County, King Kong, W., and The House Bunny; and, extra awesomely, his turn as Father Gill last year in Mad Men.
But perhaps there's this, too: When was the last time you saw Colin Hanks in a cheesy Hollywood party picture or read any sort of gossip about him? Perhaps seeing stardom up close is the best education on how to classily handle fame. Take note, future tart and tartlets!
It's a busy time for Mr. Hanks: Just one day after 33 Variations premieres, he'll be walking the red carpet for his starring role in The Great Buck Howard, a sweet and funny film out in theaters March 20, in which Mr. Hanks plays an assistant to an aging mentalist (à la the Amazing Kreskin) played by John Malkovich. If he's exhausted by the grind, it doesn't show; he's effortlessly friendly and charming, and when he talks about his Broadway debut, it's with the unabashed enthusiasm of a high-school drama club geek.
"It's fucking Broadway! I mean … there's just no other way to describe it," he said. "It's got that thing, you know? It doesn't matter if it's The Little Mermaid or Waiting for Godot … you just want to soak it up as much as you can—come to places like this"—he waved a long arm to encompass the clattering dishes, paper napkin, his oatmeal and Diet Coke—"or you go to Sardis. This is a tradition I want to be a part of."
Mr. Hanks started acting in middle school while growing up in California, the oldest son of Tom Hanks and his first wife, Samantha Lewes, an actress and producer who passed away in 2002. "It was always something that was really fun, something I loved," he said. "Obviously people just instantly assumed, Oh that's what he's going to do. But it wasn't that for me. It was just fun." It wasn't until college at Loyola Marymount University, he said, that it became a more focused ambition. "I realized I have more fun doing this than any other classes … or even just the sitting around and doing nothing. So then, you know, there was a process of saying, 'O.K.! We're really going to do this. And … there's going to be some stuff that comes up … and that will be fine. It had to be the thing I really wanted to do. And the thing is, I really don't want to do anything else."
Part of that "stuff" is of the big, unavoidable, son-of-a-megastar variety. In The Great Buck Howard (produced through Tom Hanks' Playtone) Hanks père plays Colin Hanks' onscreen father. It's brief and cool and somewhat mind-bending to see, but it isn't the main attraction—that would be John Malkovich's zany performance that is equal parts hilarious and heartbreaking. But, having a famous father in the same profession is the one issue that continually comes up (just ask Jane Fonda!).