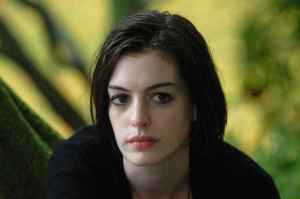 Another drawback to the long and cold winter, besides all the obvious complaints: a total lack of DVD releases. In recent weeks our Netflix queue has been a desolate wasteland of old classics and new crap. When we get emails telling us What Just Happened? has shipped, and we're actually kind of excited, the situation has gone critical. (About What Just Happened?: a better title has never been chosen.) Thankfully, winter is almost over! It stays light until after 7 p.m. nowadays! And, after weeks of nothingness, today brings seven (!) new releases to DVD that you will surely want to see. Here are some suggestions on how to rank them in your queue.
7.) Cadillac Records: We missed this when it hit theaters, despite the good reviews, and we'll probably end up missing it on DVD as well. This just feels like the movie in your Netflix queue that you always put five other movies above. There's always cable…
6.) Rachel Getting Married: A true example of the parts being better than the sum of the whole. Anne Hathaway is amazing throughout, we have a cinematography crush on Declan Quinn, and Jonathan Demme does his best faux-Altman/Cassavettes impression. Yet… the movie is an arch bore that over stays its welcome by twenty minutes.
5.) Let the Right One In: The beloved Swedish import, which is being turned into a sure-to-be hated American remake by Cloverfield director Matt Reeves, centers on a young boy who falls in love with a young girl who turns out to be a vampire. Tomas Alfredson's film is supposed to be alternatively touching and horrifying, but we expect to spend a lot of the running time with the remote control firmly planted over our eyes.
4.) Synecdoche, New York: Everything we heard about Charlie Kaufman's directorial debut made the film sound about as much fun as attending a funeral. But now that it's on DVD, what better way to spend a Saturday night?
3.) Happy-Go-Lucky: However, we may wash Synecdoche, New York down with this one. Mike Leigh's film is every bit as happy-go-lucky as its title. And if anyone out there wants to do a recount to find out how Sally Hawkins didn't get an Oscar nomination, be our guest.
2.) Milk: We liked Milk enough when we saw it last November, but we were slightly disappointed anyway with all the effusive praise. Still, we're anxious to revisit the film on DVD to see if Sean Penn and Josh Brolin were indeed as good as we remember, and if Diego Luna was as bad.
1.) Role Models: We never did a top-ten list for 2008, but if we had, Role Models would have certainly been invited to the party. Take everything you love about Judd Apatow movies, combine them with David Wain's absurdist sense of humor and then give the film a load of truly earned emotions. Role Models is the best kind of comedy: one that actually makes you feel for the characters. Also, the cursing children and KISS songs don't hurt either.