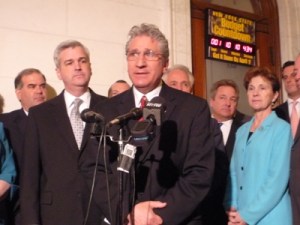 ALBANY—Assembly Republicans just gathered to hold a press conference blasting the state budget, which Minority Leader Jim Tedisco said would "cause the demise of the upstate economy" and likened to an April Fools Day joke.
Flanked by members of his conference, he said, `"We're going to debate the heck out of these bills."
As is, David Paterson and Democratic legislative leaders, who control the process, said they will pass the bills Tuesday afternoon—a process that will likely last into the evening.
I asked whether he would actually be there tomorrow to take part in the debate, given that he's a candidate in the congressional election also scheduled for tomorrow.
"My conference," he replied. Asked again if he would be there, he answered. "Am I here today?" 
I pointed out that it didn't really answer the question.
"On occasion I've debated bills. But I'll be around here, I'll be around the Capitol and we'll be working with my conference debating these bills. Mr. Hayes is our Ways and Means [Committee] person, they always debate the bills. He's learned, he's on the committee and he'll lead the discussion. We'll be doing our job."
An aide, Bill Sherman, said Tedisco would debate if Assembly Speaker Sheldon Silver accepted a challenge to debate in person.
(No immediate word on whether Silver will be there.)
Afterward, Tedisco spoke to a few reporters about how the budget fits into the election. 
"I think it's illustrative of the differences between myself and my opponent. I've been talking about [how] one of the real issues is leadership, and I think what they want to do is send someone to Washington who can not only go to Washington, talk about the economy and create jobs, but can stand up to some of the powerful leadership and be a watchdog of the waste in Washington," Tedisco said.
"I've been doing that for several years here in the New York State legislature," he continued, gesturing to some of the lingering members. "And this is another illustration of how I've led my conference and stood up on behalf of my constituents."
Tedisco was asked if he's nervous about tomorrow.
"We're not nervous because any time you leave it up to the public and the people and the taxpayers, they always do the right thing," he said. "And I think they're going to do the right thing tomorrow."
UPDATE: Silver's spokesman Dan Weiller called to say "it sounds like  Assemblyman Tedisco is looking for a new debate partner after his experience with Scott Murphy."
He said he expects Denny Farrell, the Chairman of the Ways & Means Committee, will lead debate for the Assembly Democrats.