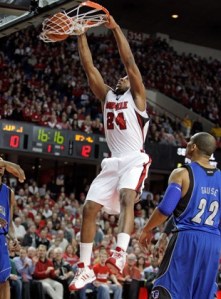 The largest conference tournament for the best conference in the country begins Tuesday at Madison Square Garden with the bottom eight members of the Big East squaring off. Incredibly, not a single one of the eight has an NCAA tournament bid locked up—in fact, it's like that only three of them can get a bid without an extended conference tournament run.
Still, many of those teams needing extended runs are quite talented—both Georgetown and Notre Dame have multiple quality wins, with the Hoyas having knocked off four of the nation's top twenty teams. So as sixteen teams head to MSG, sixteen separate choose-your-own-adventures await, with one automatic bid for whoever captures the Big East tournament.
Top-seeded Louisville, along with Big East seeds 2-4, needs just three wins to capture the Big East title. If the Cardinals win one or two of those games, they will most likely end up with a two seed. If Louisville wins the Big East tournament, a one seed will come to Rick Pitino's crew.
For second-seeded Pittsburgh, it is hard to imagine losing a one-seed, regardless of how they play. One supposes that if Rutgers finds a way to beat both Notre Dame, its Tuesday opponent, West Virginia, its Wednesday opponent, then shock Pitt, the loss might be enough of a knock on the Panthers's RPI of 1 overall to make Sunday less than a fait accompli. But figure there's little adventure for the Panthers.
Third seed Connecticut has a chance at a number-one seed with a tournament win. Should the Huskies choose only to win two games, a two seed is likely waiting for them, particularly if Duke, Oklahoma, Memphis and Michigan State all win their respective conference tournaments. If Connecticut is knocked off in the quarterfinals by an unlikely opponent, the committee could punish them with a three-seed, but both the loss and the result of such a loss are unlikely.
Fourth-seeded Villanova has a chance to get as high as a two seed if the Wildcats win the conference tournament. Should Villanova lose in the quarterfinals, the seed could fall as low as five. Chances are a win or two gets Villanova a three seed.
Now it starts to get interesting. Marquette is a five seed in the Big East tournament, meaning that the Golden Eagles need four victories to win the tournament, as do the other teams seeded 5-8. Marquette needs to show the committee that even without starting point guard Dominic James, who was lost for the season due to injury, that it is an elite team. Several late losses plus an injury could land Marquette a 6-7 seed. But with a strong Big East run, Marquette could secure as high as a three seed—a monumental difference.
Syracuse has been an elite team since Andy Rautins and Arinze Onuaku returned to form. Should the Orange run through the Big East tournament, a four-seed or even a three could be the reward. But with an early loss, the most Syracuse can hope for is probably a six seed.
Big East seven seed West Virginia is the last of the conference's NCAA locks, at 21-10, 10-8 in conference, with a strong out-of-conference schedule. Still, the Mountaineers look headed for an 7-8 seed in the NCAAs, which means a likely second-round matchup with a top seed. With a pair of wins, including one over second-seeded Pitt, the Mountaineers can secure a 5-6 seed. With a tournament victory, West Virginia can still reach a four seed.
For eighth-seeded Providence, nothing less than a tournament bid is on the line. Despite a 10-8 in-conference record, the Friars, based on a poor overall schedule, have an RPI of just 70. Two wins, the second against Louisville, are a must—three are probably necessary for Providence to be confident on Selection Sunday.
Seeds 9-16 need to win five games to win the Big East tournament. The nine seed, Cincinnati, managed to play its way out of the tournament. The Bearcats were 8-7 in the Big East, but managed to lose to both South Florida and Seton Hall to blow a sure chance at a winning Big East record. Now Cincinnati needs wins over DePaul, Providence and Louisville to even enter NCAA discussion. Win four, and Cincinnati is likely in. Win the tournament, and the Bearcats probably earn a 9-10 seed.
Ten seed Notre Dame's seven-game midseason losing streak should be put in perspective—six of the seven losses came to teams ranked 21 or higher. Still, the streak left Notre Dame with an overall mark of 17-13, 8-10 in the Big East. NCAA consideration starts with wins over Rutgers and West Virginia, and leads to a Fightin' Irish bid with a win over Pitt. Should Notre Dame win the tournament, an 8-9 seed probably awaits in the NCAA tournament.
Eleven seed Seton Hall has only one path to the tournament, given an RPI of 100—win all five. Even a tournament victory likely means an NCAA 12-13 seed.
Twelve seed Georgetown, despite a respectable RPI of 49, needs to do a lot of work in the Big East tournament, mostly due to a horrific late loss to St. John's. The way Georgetown has played since a 10-1 start, it is hard to imagine the Hoyas have the 3-4 wins in them necessary to make the NCAAs. Still, with wins over St. John's, Villanova and Marquette in the Big East tournament, the committee will have to take another look. A fourth win would likely come at Connecticut's expense and seal a bid. Win five and Georgetown's RPI could lift them to a 6-7 seed.
And the adventure for seeds 13-16 is just being there. The Big East never before invited the bottom four seeds in the expanded sixteen-team league. Now, for the first time, even lowly, winless DePaul, at least for a day, can dream NCAA tournament dreams.