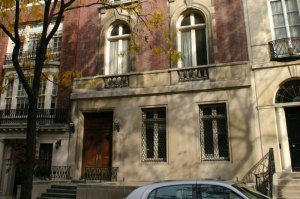 Reed Krakoff's massive mansion is back from the dead.
Three and a half years since 115 East 70th Street was bought for $17 million, and two and a half years since it was gutted by an early-morning three-alarm blaze that injured a firefighter, the Coach president's townhouse has quietly become available, according to a source.
Mr. Krakoff wants $52 million for the renovated 30-foot-wide house, which would make it one of the most expensive pieces of real estate ever sold in New York, though there's now no official listing or tag. The executive and his wife have already begun looking for a new townhouse in the neighborhood.
Paula Del Nunzio, the broker who sold Mr. Krakoff's last house, a nine-fireplace mansion on East 61st Street, would not comment except to say, "Reporting on quiet listings is a hideous and obnoxious thing to do." In 2007, she sold that East 61st place for $14.995 million to Pink Floyd's Roger Waters.
A spokesperson for Coach said Mr. Krakoff would decline comment.
"It looked like a volcano erupting," a neighbor told the Post after the fire, which was initially investigated as suspicious. A spokesperson for the FDNY said this week that the cause was undetermined: "Not enough physical evidence left." As it happens, blazes in massively fancy Upper East Side townhouses don't necessarily get in the way of colossal sales: In 1997, a Christmas wreath caused a fire at 10 East 67th Street that killed two women, yet the house eventually sold for $28.5 million.
And Mr. Krakoff's calamity wasn't even the Upper East Side's worst of 2006. That July, Dr. Nicholas Bartha, son of a Transylvanian mining magnate, sent an ominous email to his estranged wife, who had wanted to sell off the family's East 62nd Street townhouse. Senator Arlen Specter and Brit Hume were cc'ed. After sending the email, Bartha used a basement gas pipe to blow the property up so fiercely that the White House was reportedly informed. Half a year later, the Russian-born developer Janna Bullock bought his cleared lot for $8.35 million; she has said the mansion she's building will have a wine cave, a pool and geothermal heating.
But Mr. Krakoff has competition closer to his East 70th house. Besides the officially listed $75 million mansion one block up and the $54 million Sloane Mansion two blocks down, telecommunications heiress Sloan Lindemann Barnett's Peter Marino–designed mansion a block south is quietly available for around $62 million. Then there are the unofficially listed mega-apartments, like Les Wexner's 834 Fifth Avenue duplex for $60 million.
All these inconspicuous luxury listings make sense: "I don't know what luxury means anymore to people," Mr. Krakoff told Portfolio recently in a piece called "The End of Flaunting." It's not clear who still has money to spend on top-crust uptown real estate, but a second source said Andrei Vavilov, the billionaire Russian oil oligarch who sued the Plaza over his $53.5 million penthouse, has taken a look at Mr. Krakoff's place.
Only two New York townhouses have ever sold for at least $50 million, and one was brokered by Ms. Del Nunzio. Even more importantly, the stretch of East 70th Street between Park and Madison happens to be obsessively frothed-over. The light is cinematic even on bad days; the trees smell like money; the turn-of-the-century facades are gubernatorial but slightly neighborly; the noiselessness is calming but not dull; and, of course, Woody Allen's townhouse is across from Mr. Krakoff's.
mabelson@observer.com