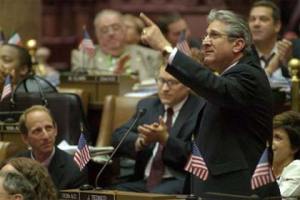 ALBANY—Campaign rhetoric in the race to replace Kirsten Gillibrand in Congress is all stimulus, all the time, with a big grounding on the headlines of the day.
Assembly Minority Leader Jim Tedisco is trying to cast Democrat Scott Murphy's support of the stimulus bill as a vote for liberal profligacy—there are no doubt problems with the measure—and is latching on to a paragraph in the law that does not extend a prohibition on bonus payments at firms receiving TARP money (like AIG) to bonuses agreed to in-contract before Feb. 11 (like, um, AIG).
Here's the relevant passage of the law, from page 404 of this document: "The prohibition required under clause (i) shall not be construed to prohibit any bonus payment required to be paid pursuant to a written employment contract executed on or before February 11, 2009, as such valid employment contracts are determined by the Secretary or the designee of the Secretary."
National Republicans, smelling blood in the headlines, have used this issue to attack Murphy and several incumbent Congressional representatives, including Connecticut Senator Chris Dodd, who supposedly proposed the language, Representative Dan Maffei and Murphy.
"Did Scott Murphy knowingly support a bill that handed out millions in taxpayer-funded bonuses to greedy Wall Street executives, or did he simply not read the bill? Taxpayers are mad as hell and deserve answers and accountability—it's time Scott Murphy explained himself," Tedisco says in a statement out today.
His campaign says the stimulus package "protects" AIG and gives a "green light" to the bonuses. The stimulus certainly doesn't prohibit the bonuses, but doesn't authorize or fund them. (The funds came through the TARP legislation passed this autumn, which both candidates oppose.) You be the judge of what verbiage is acceptable and what is outlandish.
Murphy's campaign was quick to note that the same section of the stimulus calls for caps on executive compensation and a prohibition of bonuses going forward. And he spent this morning latching on to another aspect of the stimulus bill—funds that would restore cuts to state education aid.
Murphy appeared at Shenendehowa High School (full disclosure: I'm an alum, which means I noticed when his campaign staff misspelled Shenendehowa in their media advisory), where school officials are mulling cuts that could result in the elimination of 46 positions.
If the stimulus monies go through as planned, Shenendehowa would only be facing a $3.5 million drop in expected state aid as opposed to the $8.2 million drop that was the basis for the budget cuts currently on the table, according to district spokeswoman Kelly DeFiciani.
Murphy, like everyone else, thinks that the Congress should "do everything possible to block AIG and others from abusing taxpayer dollars for excessive bonuses on Wall Street."