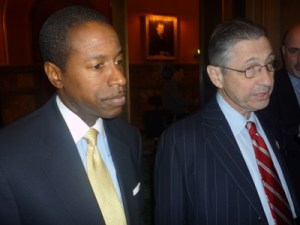 ALBANY—About forty hours before the M.T.A. board will vote on whether to adopt a "doomsday budget" (unless state lawmakers enact a revenue package), Senate Majority Leader Malcolm Smith left a closed-door meeting with the other members of the state government troika. He had no good news.
"I'm not saying the deadline is of no concern, but you do the best you can," Smith told reporters waiting on the sandstone steps for him to emerge. "And it doesn't mean you give up if a deadline passes. You have to keep working."
Smith's position as the bad guy in this fight became cemented – rightfully or not – after David Paterson backed the Ravitch Commission's plan and Assembly Speaker Sheldon Silver floated a modified version.
Smith's counterproposal was panned roundly. The fingers have stayed pointed at his new majority: in the last week, over a thousand faxes have been sent to senatorial offices by those supporting the Ravitch framework, according to Neysa Pranger of the Regional Plan Association, which has lobbied extensively since last year and mapped out the service cuts by legislative district.
"In the last few weeks it has certainly turned there as it became clear the Senate Democrats wouldn't have the votes to pass a healthy plan," she said.
Rank-and-file Democratic senators grumble about the way they're being portrayed.
"This is just the next round of negotiations," State Senator Diane Savino told me outside the chamber Monday. "They're just pushing the envelope."
I asked her whether she thought it was fair that her conference was being blamed. Last week, David Paterson said the chamber was "hijacking" negotiations and felt their plan was not workable. He was more diplomatic Monday morning.
"It's not about fair or not fair, it's the responsibilities of leadership," she said. "You take the criticisms with the accolades."
State Senator Ruben Diaz Sr. was floating around the lobby as well, fresh from defending his newly indicted friend and colleague Hiram Monserrate. I asked Diaz what he thought about being held responsible for a fare hike by people like the ones who demonstrated outside his office.
"The gays demonstrate in front of my office, too. Everyone demonstrates in front of my office! I love those people," he said. "We have the best, the best, the best option for the community. We have it. No fare increase. No cut of services. No toll, and no layoffs. That's the best plan."
Randi Weingarten, the teachers' union president, was walking by. Diaz Sr. turned to say hello, and I noted that Weingarten was one of many signatories on a letter to legislators urging them to adopt a plan in the Ravitch framework. I asked her about this, and she nodded.
"There's a big difference between believing something different about the M.T.A  and condemning them," she said of Diaz Sr. and his conference-mates. "The differences on a couple of issues do not mean that this is not a terrific senator."
Diaz Sr. jumped about six inches. As Weingarten escaped, Diaz Sr. grabbed my left arm (my writing arm) with both hands, and slowly spun us around, saying, "Print that! Print that!"
Carl Kruger was talking to more reporters just down the hallway. I asked him the same question: did he feel it was fair that the Democrats were being blamed?
"Did you read the New York Times today?" He said. "There's going to be a fare increase regardless of whose plan we take."
"What are their numbers? What's their plan?" Kruger continued. Glenn Blain from the Daily News said their plan was Ravitch.
"They said they needed $5 tolls to finance their plan, now they said they can do it with $2. Maybe they can do it with a dollar. Maybe they can do it with none. They have zero credibility. Zero. And you know what? We're not going to subject ourselves to a back-door approach to congestion pricing."
State Senator Eric Schneiderman flitted by. He hasn't said much about the M.T.A., citing his preoccupation with budget proposals concerning drug sentencing reform. I asked him about Paterson's "hijacking" comment.
"The governor, for years, has been obsessed with the film 'The Taking of Pelham 123,' which involves hijacking an M.T.A. train," Schneiderman said. "I know this for a fact. I suggest you look into it."
He flitted away.
On Sunday, Paterson had said he was "not really optimistic" about reaching an agreement by Wednesday. Monday morning he suggested the M.T.A. should raise the fares. Despite that, Smith emerged Monday evening from his meeting with the governor "optimistic."
"Remember the fare hike takes effect in June. In terms of calibrating machines and other things, that doesn't really start for about 35 to 45 days out," he said. "I'm still optimistic. Because everybody recognizes the importance of the M.T.A. getting their capital, and we're going to work to make sure that happens, as well as making sure that there are no service cuts and people aren't laid off."
And so we continue, even as everyone I speak to says a deal is far from imminent.
Pranger offered the most definitive step going forward: she said transit advocates will be at the Capitol (again) on Tuesday.