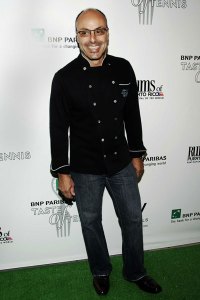 Retired politician Jerry Kretchmer didn't know much about fine dining when he opened Gotham Bar & Grill 25 years ago.
But he liked what he saw in stylish young chef Alfred Portale: "Alfred came in wearing a mauve sweater, corduroy slacks and a great-looking watch. I said to him, 'Alfred, if you cook as good as you look, you've got it made.'"
Mr. Kretchmer was right. Within five months, the fashionable French-trained toque was awarded three stars from the New York Times—an honor he also received in 1989, 1993 and 1996—establishing Gotham as a culinary landmark.
On Sunday, March 22, the illustrious restaurant at 12 East 12th Street celebrated its silver anniversary with free Champagne, live music by the Cliffsiders and a packed house.
"Everyone's been ordering the tasting menu—it's a shitstorm in the kitchen," said Mr. Portale, 52, sporting his trademark Alain Mikli–designed eyeglasses and black chef coat. He joked, "We had to ask a photographer to plate a dish!"
Staffers reminisced about all the famous patrons—Mel Brooks, Tony Bennett, Monica Lewinsky, Eli Manning—and bizarre incidents over the years. Just last month, a man was thrown through the front window!
Longtime employees will never forget the explosive screaming match between pop star Madonna and actor Sean Penn prior to their divorce in 1989.
Convicted mob boss John Gotti also made a memorable appearance just before heading to prison in 1992. "He walked around putting hundred dollar bills in everybody's pocket," recalled Mr. Portale.
Several food-world luminaries turned out for the occasion. Drew Nieporent, owner of Nobu and Corton, was holding court at a table of eight in the middle of the room.
Nearby, Bill Telepan, chef-owner of Telepan restaurant, was seated with his wife, Beverly Ivens, and their young daughter, Leah. The couple actually met at Gotham back in 1989 while Mr. Telepan was working as a cook and Ms. Ivens was the coat-check girl. Mr. Telepan declined to confirm rumors of hanky-panky in the coat closet. "That's for us to know!" he said.
Gotham regular Chandler Sante, the inspiration for Matthew Perry's character on the popular TV show Friends, described the evening as a bit more subdued than the 20th anniversary five years ago.
"It felt like the cabaret world of the '30s in Weimar Germany," Mr. Sante said. "There were—I kid you not—naked women in the street. There were people doing things in the bathroom. … It was one of the greatest, wildest nights."
cshott@observer.com