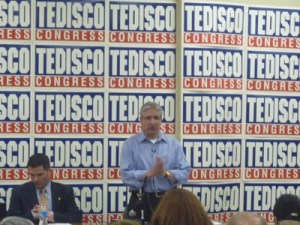 HALFMOON—Why attend a televised debate when you can gain all the publicity with none of the hassle?
For 57 minutes, five television cameras remained fixed on Jim Tedisco as he stood, his collar open as broadly as his smile, answering questions from a standing-room-only crowd in his campaign headquarters as part of a "people's town hall."
The three local network affiliates were there, as well as the 24-hour cable news channel and even a camera and reporter for Fox News. All were rolling as Tedisco answered animatedly before an Orwellian montage of 35 of his campaign signs. The Tedisco campaign also billed this event as "Jim Tedisco in 3-D," referring to people asking him questions in person, via phone and over the Interweb through Facebook and Twitter.
"What was accomplished is what any public servant or anybody running for office should want to have take place: interaction with a large number of different constituents," Tedisco told a scrum of reporters afterward. "To get their input, to answer their questions, let them know what he was all about. We had this scheduled, we had this planned, and my word was I was going to take as many questions and answer as many calls as I could."
At one point, there were 5,660 people on the line. Tedisco's chief of staff Bill Sherman worked the technological end of things as Assemblyman Marcus Molinaro served as a moderator (he insisted on making all the jokes). Sherman said that 46,000 people were robo-called and asked if they wanted to stay on for the tele-town-hall. The houses called represented enrolled Republicans, Conservatives, Independence Party members and blanks in all 10 counties of the district. The questions were not screened, Sherman said; they were just selected to ensure a random mix by topic, gender and geography.
I counted about a hundred people in the room itself, including many faces I recognized from earlier Tedisco events. Michael Cuevas was there, as was Kathy Marchione, the Saratoga County clerk. Some people wore Republican Party paraphernalia, and I spotted at least one guy in an N.R.A. shirt. They applauded every zinger.
The result was a masterfully propagandic interactive presentation of the Tedisco message. While Tedisco's opponents Scott Murphy and Eric Sundwall were asked questions by two veteran journalists—WMHT's Susan Arbetter and Casey Seiler of the Times Union—Tedisco spoke to the people. Here are some of the things they asked:
— Do you support cuts in military spending?
— What are you going to do to clean up earmark spending in Congress?
— Will it be possible to bring more manufacturing jobs to this area?
— What actions will you take to actively oppose Nancy Pelosi's agenda? (Tedisco was good; no two-minutes hate resulted.)
— Would you say New York has had some of the same problems with its government as Illinois?
— Do you support the return of the Fairness Doctrine?
— If President Obama were to force veterans to pay for health care, what would you do?
Daniel Mathias, of nearby Ballston Lake, asked Tedisco what he would do to help provide for school districts facing budget shortfalls. It's an issue in this suburb, where the Shenendehowa School District (where I went to high school) is mulling the elimination of 46 positions. Here's Tedisco's answer:
"One thing we have to do, it's our obligation on every level, to fight to get every dollar we sent out there back to us in the community. The stimulus package has money in there for education, and we're going to use a part of it. Now, we can use a part of it for education because it's such an important priority, but two-thirds of that money cannot go for deficit restoration. Because what will happen is there's another built-in deficit next year, and then the following years. It's $14 billion this year. Why do we have a $14 billion deficit? Because we tax and spend and followed our spending psychology into a deficit situation. Over the last 10 years, I believe we've increased spending by close to $7 billion. A 52 percent increase. If we had stayed at the rate of inflation, we'd actually have a surplus right now. And we give quite a bit of money to education in this state, in the billions of dollars, close to $20 billion dollars, but it is a good investment. Every poll we do with the taxpayers, they say, we want you to invest in education. They know the power of that tool, of that gift for the future. Who's going to get that chip-fab, high-tech job in Malta, in Stillwater, from Global Foundries? The individuals that graduate from our colleges here. We have a brain drain right now, they're getting up and they're leaving New York State, and we don't have a brain gain where they're coming into New York State. One of the things we're proposing is an income tax credit for any student in the sciences or math or nursing because we need people to stay for the high-tech jobs. For five years we'll give them an income tax credit. Why is that a good investment? Because they'll stay here for five years, they'll get a job, they'll buy a home here and they'll stay here the rest of their life, 30 to 35 to 40 years. They'll be a part of the pie and they'll share in our taxes, and the revenue we bring in we can give to education. Guess what: When you tell somebody you're going to have a lottery and that money is going to go for education, not only there but to help you reduce your property taxes, it really should go there. It shouldn't be taken out and spent for other areas."
The room applauded. Molinaro moved on to the next question.
I found Mathias after the event and asked him what he thought of the night.
"I thought Jim did a really good job answering the questions with passion," he said. He didn't know about the issue of the WMHT debate when I asked him. He told me he was walking away with a better impression of Tedisco. After all, by any objective measure, he did great. It was a brilliant celebration of his record and opportunity to spread his message to thousands of voters.
One of the reporters at the event asked Tedisco about his nonattendance at the multi-candidate debate.
Tedisco's answer was as it has always been: He agreed to four debates, the WMHT event wasn't one of them, and this event has been long in the pipeline.
"If you don't have the integrity of your promises, then you shouldn't be a public servant," he said. "Our campaign managers made an agreement to have four debates."