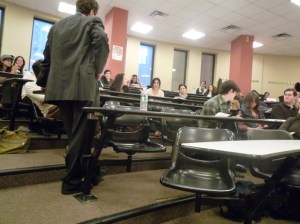 The first forum featuring the four Democratic candidates for public advocate ended last night at Fordham Law School with the candidates distinguishing themselves from one another, but subtly.
The candidates arrived one at a time and each spoke for about 25 minutes with the students. (My photos from the event are here. Fernanda Santos has a story on it here.)
City Councilman Eric Gioia of Queens spoke first and said he has "such a majestic view of the law" and considered the office "David's sling shot." Gioia spoke a lot about his background, stressing that he's a public-school educated kid who worked at his parents' flower shop and somehow ended up working in the White House.
Speaking of his family, he said, "We grew up pretty tough," and said he didn't have health insurance when he first ran for office in 2001.
He repeatedly referred to his campaign as a grassroots effort, and said that was how he won his City Council seat.
"People say the way I'm running is impossible," said Gioia, characterizing his campaign effort as a mix of underdog moxie and populist appeal.
Gioia said he supported mayoral control of schools, but that he would like to see more parental participation. Gioia also said he'd like to see "a lot more reporting" but "not from kids," but rather, from "the administration."
When asked by the moderator, Tom Robbins of the Village Voice, how he'd do that from the public advocate's office, Gioia said he wasn't sure.
He went on to say that the role of the office is "not just to fight with folks," but build coalitions. (Other candidates in the race, namely Bill de Blasio and Mark Green, are better known for large-scale rallies and protests, and for taking more head-on approaches when dealing with City Hall.)
Gioia told the students that "if your government worked as hard" as some school teachers, there wouldn't be as many problems.
Before leaving, Gioia asked for people to contact him if they wanted to volunteer on the campaign.
City Councilman Bill de Blasio of Brooklyn spoke next and referred to the office numerous times as a place for a community organizer. De Blasio began by praising Robbins, the moderator, for his accomplishments as a reporter.
(Fernanda Santos of the New York Times noted, jokingly, that she lived in his district. He duly praised her, too.)
Students had some pointed questions for de Blasio. One asked him about contributions he received from billboard companies shortly after introducing a bill that loosened regulations on them.
First, de Blasio defended the merits of the bill, saying the city is using overly strict rules on the industry to generate revenue. He also criticized City Hall for not even granting him an interview with agency officials in order to discuss the matter.
Then, De Blasio turned his attention to a recent New York Post editorial that criticized him for the billboard contributions. De Blasio called the editorial "particularly lame" and said it's the result of his attendance at a recent rally to criticize a New York Post cartoon which portrayed the author of the federal stimulus package as a chimpanzee. De Blasio said others who attended the rally have been criticized by the paper also.
De Blasio offered conditional praise for Bloomberg, saying, "I tend to like the mayor the most when he's pushing the envelope" on progressive issues, like mayoral control.
De Blasio also said the next public advocate has to build "coalitions" and not do "just quick hits." Critics of Gioia have said he fails to bring large groups of people together, and instead, focuses on getting himself – and his issues – into newspapers and on television instead.
Mark Green, the city's former public advocate, was the third speaker. He arrived with an entourage of campaign aides and some family members. While he spoke, his supporters handed out a letter "to New Yorkers" highlighting Green's accomplishments when in the office. The letter included a photo of Green with former president Bill Clinton.
Speaking from behind the wooden podium, Green said "God bless" Mayor Bloomberg "for implementing my idea," referring to 311. When asked about mass transit, Green said it was unrealistic to simply oppose revenue generators like tolls on the bridges a commuter tax.
He called some of the proposed transit cuts "insane" and said they'd cripple the city's economy. He offered praise for Sheldon Silver's plan to charge $2 tolls.
The moderator, Robbins, more than once asked Green to conclude his answer so they could call on other students to ask questions. At one point in his opening remarks, Green recounted the history of the office and referred to New York City political history – the Board of Aldermans! – and events that were taking place decades before many people in the audience were alive.
Robbins asked Green about running for office after pledging that his failed bid for Attorney General in 2006 was his last. Green, using an answer he's employed before, said it's not unlike a man getting divorced and vowing never to remarry, only to wind up at the alter again. The rabbi doesn't not marry you, he said.
Green seemed to have trouble answering a question from Robbins about whether he'd run for mayor again. (He ran in 2001.) Green said, in principle, it wasn't a fair question to ask because you don't want to prevent good candidates from running for higher office. That question shouldn't be posed to him or "any" of the other public advocate candidates.
Green said similar questions were asked of Bill Clinton, Barack Obama and Hillary Clinton when before they ultimately ran. He also said nobody could rightly say Hillary Clinton shouldn't have run because she may have answered a similar question about her higher aspirations.
Green said, "So, I learn as I campaign," and said he's seeking policies, stories, and advice from the public. He also pledged to hold town hall meetings throughout the city and "do what Bloomberg hasn't," which is, he said, to govern from the bottom up.
Last to speak was Norman Siegel, a civil liberties attorney and veteran public-advocate candidate. He not only praised Robbins, but said that dogged investigative reporters like him would make great public advocates. (Robbins didn't react much to the buttering up.)
Siegel walked up and down the aisles, and exuded the most enthusiasm. He recalled going to law school wanting to "change the fucking world." The students laughed.
Siegel said he disagreed with Green, and that it was fair to ask the candidates about their higher aspirations. Siegel said he didn't want to hold any other office. He also sought to distinguish himself from the field of candidates, saying he was "the only one early on in '07 who was for Obama."
At the end of the event, I noticed that one staffer each from Gioia's and de Blasio's offices had stuck around to listen to all the candidate presentations. The two staffers, Matt Wing from De Blasio's office, and Eric Koch of Gioia's office, shook hands, smiled and chatted with reporters.
As they did, students from the next class had already begun filing into the room.