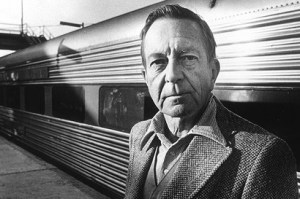 Cheever
By Blake Bailey
Alfred A. Knopf, 770 pages, $35
John Cheever was inordinately fond of the word "inestimable": It shows up twice in the brief preface to The Stories of John Cheever (1978), the best seller that pushed him at last to the top of the heap (he was now king of the short story, while Saul Bellow ruled over the novel); and again in the first story of the collection, "Goodbye, My Brother," written in 1950, when Cheever was not yet 40:
"Oh, what can you do with a man like that? What can you do? How can you dissuade his eyes in a crowd from seeking out the cheek with acne, the infirm hand; how can you teach him to respond to the inestimable greatness of the race, the harsh surface beauty of life; how can you put his finger for him on the obdurate truths before which fear and horror are powerless?"
He liked the word and the word suits him: There's something inestimable about his work, a magic that defies measurement. And the sorrow and loneliness of his inner life—that, too, is inestimable, even though all the relevant information is now on the table: Blake Bailey's definitive biography, Cheever (no one will ever want to know more about this particular life), and the two-volume Library of America edition of Cheever's work (edited by Mr. Bailey). Posterity will make its judgment about his place in the canon; meanwhile, we can admire a prodigious and mysterious achievement—and contemplate, for as long as we can bear, the misery from which it sprung.
"RARELY HAS A GIFTED and creative life seemed sadder," wrote John Updike when The Journals of John Cheever were published in 1991, nine years after the author's death. Before that we'd been privy to The Letters of John Cheever (1988), edited by his son Ben, and Home Before Dark (1984), a frank memoir by his daughter, Susan. The combination of those three volumes should have prepared us for a uniquely depressing life story—and yet it's still a shock to realize, halfway through Mr. Bailey's biography, that the grimness will not abate, that the successful writer who in 1964 has his face on the cover of Time magazine ("Ovid in Ossining"), the genial and charming John Cheever with his famous "childlike sense of wonder," is desperately unhappy and destined to become more so.
Already in 1964, during what he had to admit was an "extraordinary run of luck," he was drinking heavily before any public appearance, so as to keep a smile fixed on his face—"and afterward," Mr. Bailey writes, "he felt so ashamed of himself that he drank more." Cheever confided in his journal: "I feel like a remorseful masturbator holding his aching, softening cock in one hand while sperm runs down the wall paper like the white of an egg." Yes, that is the tone of his intimate confessions, which is one reason why I chose to quote that passage, another being that it links his shyness, his remorse, his sexuality and his drinking—four demons that tormented him for most of his life.
Loneliness and alienation were the keynotes of his dismal childhood in Quincy, Mass., and his sense of his own isolation persisted into his 20s, when he was a hungry young writer in Depression-era New York. "The thing I miss most," he wrote, "is an ability to identify myself with a group." You would have thought that marriage in 1941 to the long-suffering Mary Winternitz would begin to heal the rift, and that the birth of his first child in 1943 would finish the job. No such luck. A year after he'd settled his young family into a suburban enclave in Westchester, Cheever wrote in his journal, "Every indifferent glance, every back turned by chance, every hint of indifference, real or imagined, sinks into my breast like an arrow dipped in poison." In fact, his new role as a family man only made matters worse. Despite his yearning for a "Norman Rockwell image," he thought of himself as "a pariah—a small dirty fraud … a spiritual and sexual impostor."
Ah, yes—the matter of what he called his "contested sexual identity." "[F]lesh lusteth contrary to the spirit"—that, writes Mr. Bailey, is "surely the major theme of Cheever's work as well as his life." To put it bluntly, Cheever had sex with boys as a boy and with men as a young man. He seems to have desisted for the first 20 years of his marriage, but temptation (the promptings of his "wayward cock") plagued him: "If I followed my instincts, I would be strangled by some hairy sailor in a public urinal. Every comely man, every bank clerk and delivery boy, was aimed at my life like a loaded pistol."
And when he did eventually succumb, he was "consumed," according to Mr. Bailey, "with an almost suicidal self-loathing." The vicious cycle that persisted for at least three decades spins roughly like this: His dread of being found out—exposed as an impostor—drove him to drink, which led to impotence and undermined his marriage, which drove him to drink, with the same result or worse. And so on.
IT'S TOO NEAT TO suggest, as Cheever himself did, that his "contested" sexuality could be sublimated in his writing ("I know my troubled nature and have tried to contain it along creative lines"). When Cheever discovered in the late '70s that a literary scholar had written a dissertation in which the author's secret bisexuality unlocks the hidden meaning of his work, Cheever mocked the notion in his journal with withering sarcasm: "In order to conceal my homosexuality I married, made my wife miserable and bitter and finally rose to greatness in my last novel [Falconer] by admitting my love for cock."
For me, the experience of reading Cheever is not appreciably enhanced by an intimate familiarity with the sordid details of his romps with men (and women), or by learning that his libido remained rampant even when he was terminally ill with cancer (in Mr. Bailey, oddly, this information "excites awe and even a trace of envy"). Nor does it help to have followed day by day the arc of his worsening alcoholism, which reached its nadir in 1975, when he very nearly succeeded in drinking himself into a shabby grave. ("I keep reading biographies of Fitzgerald," Cheever wrote in the sodden mid-60s, "and I always get to bawling at the end.")
Mr. Bailey's research is impeccable and exhaustive—a mighty feat, though sometimes a mixed blessing for a reader oppressed by the weight of stubborn fact and the ticktock march of seamless chronology. Fortunately, Mr. Bailey's encyclopedic knowledge of the particulars of Cheever's unhappiness has not clouded his appreciation of Cheever's writing; the commentary on the work is judicious and nuanced.
I also admired the confident sketches of a large and fascinating supporting cast, among them Malcolm Cowley, William Maxwell, Saul Bellow, Updike and Allan Gurganus. Harold Brodkey makes a couple of cameo appearances, and earns this memorable Cheever put-down: "I think of Brodkey in St. Louis, falling in love with himself because there was no one else so intelligent handsome and rich in the neighborhood; and how bitter this marriage was." (Lines like that show off the brilliance of the journals—that massive monument, to borrow Mr. Bailey's phrase, "of tragicomic solipsism.")
AS IF THE LIFE weren't sad enough, Mr. Bailey delivers in his epilogue dispiriting news of slumping sales figures: Cheever isn't read much these days. One hopes that this biography and the Library of America edition will spark a revival.
Sorrow and hope, joy and bleakest despair—Cheever was a virtuoso when it came to hitting the high and low notes of the human scale, sometimes in dazzlingly tight sequence. (Think of "The Swimmer" and the extraordinary emotional landscape Neddy Merrill traverses on his aquatic cross-county journey.)
Let me leave you with a little taste (also aquatic: Cheever loved the water), a typical New Yorker story from 1959, "The Golden Age," about Seton, a television writer who wishes he were a poet and has brought his family to a seaside village in Italy—"because he wants to lead a more illustrious life":
"He dives, and swims through a school of transparent fish, and farther down, where the water is dark and cold, he sees a large octopus eye him wickedly, gather up its members, and slip into a cave paved with white flowers. There, at the edge of the cave he sees a Greek vase, an amphora. He dives for it, feels the rough clay on his fingers, and goes up for air. He dives again and again, and finally brings the vase triumphantly into the light. It is a plump form with a narrow neck and two small handles. The neck is looped with a scarf of darker clay. It is broken nearly in two. Such vases, and vases much finer, are often found along that coast, and if they are of no value they stand on the shelves of the café, the bakery, and the barbershop, but the value of this one to Seton is inestimable—as if the fact that a television writer could reach into the Mediterranean and bring up a Greek vase were a hopeful cultural omen, proof of his own worthiness."
Adam Begley is at work on a biography of John Updike. He can be reached at books@observer.com.