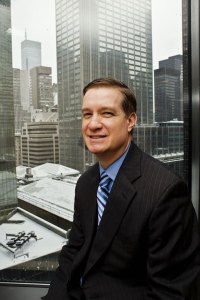 If commercial real estate brokerages were high schools, brokers would be basketball players, and researchers, the cerebral folks who turn data into decipherable macroeconomic pictures, would be enthusiastic members of the math club.
"We're nerds and we love it," said the amiable Ken McCarthy, managing director of New York research for Cushman & Wakefield.
Call it revenge of the nerds, but economic upheavals have a way of upending social orders, and commercial real estate researchers across the city are finding themselves growing in popularity.
"As the gatekeepers of info, yeah, there's no doubt about it: The value of information has gone up dramatically," said Pamela Murphy, the vice president of market data services for CB Richard Ellis. "We get the feeling that information is just so important. Clients are looking for guidance. Everyone's trying to figure out where the market is. And we all know what direction it's going." (It's going down.)
Most researchers explain the increase in demand for their services like so: In this abysmally barren desert of an economy, brokers need help finding directional markers. All they see before them right now is blank expanses of sand.
"It's much more difficult for real estate professionals on a day-to-day basis to determine what's going on and what it means for them and their clients," Mr. McCarthy said
That's something researchers are particularly well equipped to handle. Speaking broadly, researchers spend their days tirelessly acquiring and sifting through reams of data about the commercial real estate market: asking rents, taking rents, lease renewals, building sales (in the rare cases when such transactions happen), vacancy rates and the like. Then those researchers draw from that data a picture of what the real estate market looks like and, particularly in New York City, present it to the world, be it reporters, clients or brokers.
The job requires a peculiar mix of nerdish numbers-loving and media savvy.
"[Ten years ago] I would say that we tended to be back-office types that sat at our desk and did research," said Robert Sammons, managing director of research at Colliers ABR. "But that's not really the case anymore. Today, I see it very differently, as being called upon to talk to clients and to reporters. … Getting in front of our clients, probably, is a big part of this job."
Sam Chandan, the youthful economist who in December left the well-respected REIS to start his own research firm, in some ways exemplifies this kind of researcher.
A 35-year-old graduate of Wharton and Princeton, Mr. Chandan, with his rapid-fire PowerPoint presentations, has become an increasing hit on the researcher-speaking circuit. And in December, seeing what he described as a hole in the New York research market, and a growing demand for real estate information, Mr. Chandan started his own firm, Real Estate Economics. Unlike the other players in the market, he focuses on mortgage portfolios.
"A lot of my background is in the interaction of public and private markets," Mr. Chandan said. "I saw an opportunity to match the market's need."
"As the market is changing more quickly, there's too much volatility in the market, in every aspect of the market, and there's greater uncertainty," he said.
Paul Frischer, Newmark Knight Frank's executive managing director of research and the president of Rexx Real Estate Index, agreed.
"The demands for research are greater," Mr. Frischer said. "We have had unprecedented conditions, and I think people haven't seen this and therefore want someone who can tie the dots together to provide some direction as to where we will end up."
"The biggest question is how long are we going to be in this for," Mr. Frischer said. "And then, how bad will it get?"
Ms. Murphy of CBRE said she is most often asked how this recession compares to recessions past, what pricing is like right now, and "everyone wants to know where the bottom is."
Ironically, just as the demand for good information is growing, some researchers have been victims of the recent spate of layoffs at investment banks and commercial brokerages.
When Mr. Chandan, whose firm now employs four people, recently told trade mag Commercial Mortgage Alert that he might be hiring, he found himself inundated with résumés.
On the flip side, the research unit at Mr. Sammons' Colliers ABR recently grew, and Dan Fasulo, the managing director of Real Capital Analytics, described his firm as "probably in the 5 percent of companies that are expanding right now."
"The reports that we're getting from our sales folks have just blown my mind, that they're able to attract new clients in this environment," he said.
Researchers, in other words, have grabbed the limelight.
"I guess people want to be, I don't know if the right word is 'comforted,' necessarily, but they want to feel reassured," Mr. Sammons said. "In a downturn, people feel very depressed, or very alone. … And in this situation, they want to hear from somebody that might have more facts at their disposal that we're going to come out of this, that we've been in similar situations, that this is not the end of the world. I get a lot of questions about will we come out of this, will New York survive?"
drubinstein@observer.com