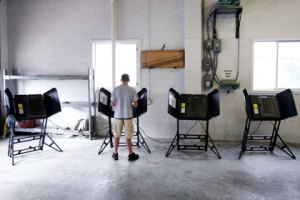 ALBANY—The polls don't close until 9 p.m., but turnout in the special election today is "decent," according to Republican Party chair in Saratoga County.
"We think it's decent. It's a little early—it's a little unique because it's a March election—but we're getting good people out," said Jasper Nolan. "It's hard to tell, but if we get a good turnout in the Saratoga-Troy area, that's where we feel we can get some good numbers."
Larry Bulman, a union leader who chairs the Saratoga County Democratic Party, said, "I'd like to see higher numbers, but a lot of people don't turn out until later."
Bulman said he thinking the race is "too close to call" and is predicting 110,000 voters. He said representatives from the DCCC were predicting roughly seventy-five to eighty thousand voters. An independent observer told me last night that 91,000 is average for special elections.
As Irene Liu pointed out earlier, about 5,900 absentee ballots have been received so far by the State Board of Elections, and more will be accepted in coming days. That means if the race is truly close, it may not be decided tonight.
"Hopefully we'll know tonight, but I wouldn't be surprised if it goes longer," Bulman said.