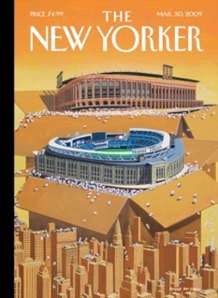 And here's today's edition of Twitter tail-chasing…
About two hours ago, The Washington Post book critic Ron Charles posted on his Twitter feed that The New Yorker was considering reducing its frequency. "Frequent contributor tells me the New Yorker is considering switch to biweekly or monthly. Recession pains," he typed.
It isn't the first time that a reduced publication rumor has followed the The New Yorker, and Condé Nast's diminishing fortunes has been a hot topic lately! So within minutes, it spread throughout the Twitterverse like bird flu. "Yikes," tweeted lit blogger Maud Newton, who has more than 1,600 people following her feed. "Not surprised," tweeted Sarah Weinman who has more than 1,900 followers.
You could practically hear the sound of 600 media reporters picking up their phones in response.
Then the music critic for The New Yorker, Sasha Frere-Jones fired back with, "These biweekly/monthly TNY rumors are total bullshit. Report it out, or shut the fuck up."
He followed that up with the following: "The mags that got hit hardest are the ONES THAT DON'T EXIST ANYMORE. Seriously. This fear-mongering falling-sky shit is. Doing. No. Good." And then yet another: "Didn't mean to bark but it's maddening to see conjecture being floated. When somebody catches fire or spills something on Si, I'll tweet it."
A few minutes later, we got New Yorker editor David Remnick on the phone (to, you know, "report it or…") who hadn't seen the post. "False. False. False. False. Just not true," he told The Observer when told about it. When we asked him if there were any discussions about it, he said, "No."
Minutes later, Ron Charles took down his original post (which still lives in this search), and replaced it with this: "A staff editor at the New Yorker assures me that TNY is not going bimonthly or monthly. 'The idea has not been discussed.'"
We've read countless clip after clip about how Twitter is a magic bullet for a reporter's arsenal: it can lead to sources, story ideas, everything!
But what about when it backfires? Then it just leads to nothing.
We'll give the last word to Sarah Weinman, who tweeted: "Today's moral: even book editors at esteemed publications can be tempted by the rumor mill. As are we all. Is Twitter too public for rumors?"