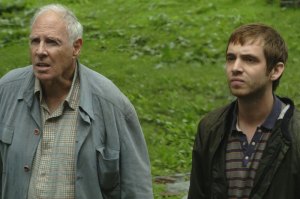 The Cake Eaters
Running time 95 minutes
Written by Jayce Bartok
Directed by Mary Stuart Masterson
Starring Melissa Leo, Bruce Dern, Kristen Stewart, Elizabeth Ashley
The Cake Eaters is a small but rewarding slice of realism that is a nice antidote to the surfeit of slasher movies that have been polluting the ozone lately. Mary Stuart Masterson, a charming actress who has starred in numerous acclaimed films of her own (Fried Green Tomatoes, Benny and Joon), makes her directorial debut with this ensemble drama of small-town life in the Catskills. With its sprawling cast of eccentrics and its revelation of the intimate secrets and internecine tensions of two families coping with separate tragedies—the Kimbroughs and the Kaminskis—it literally smacks of the literary country life created by Horton Foote. I had to read the production notes to realize it all takes place north of New York City and not the rural South. I guess there are offbeat characters in hick towns everywhere.
After three years in the big city trying unsuccessfully to become a rock star, Guy Kimbrough (Jayce Bartok, who also wrote the screenplay) returns a failure, disillusioned and guilty about missing the death and funeral of his mother (Melissa Leo) and facing the unexpected resentment of his younger brother, Beagle (Aaron Stanford, the sensitive actor who made such an indelible impression as Sigourney Weaver's sexually precocious college-age son in the 2002 film Tadpole), who worshiped their mother and stood by her every day until she died. Now he works at a menial job in the school cafeteria and paints signs. Their father is Easy (Bruce Dern), the town butcher, who couldn't bear to watch his wife's deterioration, relegating nursing duties to young Beagle. The thick tensions between these three men are understandably palpable.
Over at the Kaminski house, Georgia (Kristen Stewart) is a lonely teen with a terminal muscular disorder called Friedreich's Ataxia, determined to lose her virginity to the kind, unselfish Beagle before she dies. Just as Georgia and Beagle are beginning to discover what love really means, Beagle's anxiety turns to rage when he discovers his father had been cheating on his dying mom for years by carrying on a torrid affair with Georgia's bawdy grandmother Marg (a perfect role for salty Elizabeth Ashley). To make matters worse, Guy's old girlfriend (the wonderful Miriam Shor) has dumped him to start a family of her own, and Georgia's estranged mother, Violet (Talia Balsam), a photographer, scandalizes the local rednecks by living with a black man and taking nude pictures of her crippled daughter to get famous. (She wants to be another Diane Arbus.)
While everybody emotes dramatically all over the place, The Cake Eaters (a title that makes no sense) hopscotches between three interconnected romances—sweet Beagle and twitching, crippled Georgia; Easy and his pistol-packing mama, Marge; and Guy and his old flame, Stephanie. While they come to terms with life, love and death, the film hovers precariously on the edge of five-day-a-week soap opera. The dialogue resonates in a film that is more about what's not being said. Unlike Beagle, who goes to great lengths to hide what he feels, Georgia is very vocal because she has nothing to lose. It feels good to see a movie that takes its time introducing you to its characters. Ms. Masterson watches them live out the nuances of their daily routines until you feel like you're not watching a movie, but hanging out with friends. The fine cast is immensely likable and the director's own experience as an actor pays off. She makes the histrionics feel comfortable. Of course, it's always fun to watch Elizabeth Ashley chew the flowers off the wallpaper, and Mary Stuart Masterson maintains the healthy balance between honey and vinegar necessary to save The Cake Eaters from turning into As the World Turns.