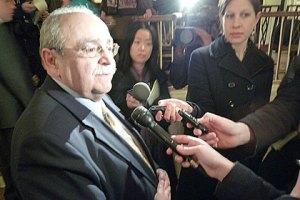 Two of the Republican county chairs that Michael Bloomberg met with last week support the notion that Michael Bloomberg is trying to "rent" a spot on the ballot from the Republican Party for his re-election.
About five minutes into an interview on Sunday, Phil Ragusa of Queens and Jay Savino of the Bronx were asked by ABC's Diana Williams about the impression that Bloomberg is "renting a spot on the ballot." She asked, "Is that what you think that he is trying to do here?"
Ragusa said, "Oh absolutely, yes."
Savino answered, "It certainly appears that way. The mayor talked about, that he feels, that we need a strong two-party system in the city of New York. Yet there was this disconnect in that the mayor refuses to join a party and actually be a part of that two party system."
The interview can be seen here.