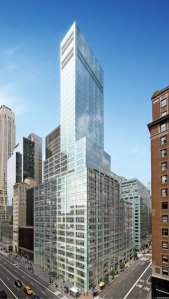 Billionaire and golfing ace Steven Roth believes in New York City's real estate market, no matter how battered and bloodied and black and blue it may appear at the tail end of a brutish winter.
His gesture of confidence: Vornado Realty Trust, of which he is CEO and chairman, will within three months begin construction on a more than $100 million rehabilitation and prettification of 330 Madison Avenue, the classy old broad of a building at the near-peerless corner of 42nd Street.
Industry sources say the firm has hired Moed de Armas & Shannon Architects to re-clad the building with a new curtain wall; create an entirely new storefront; enlarge and center the lobby (which at the moment doesn't sit quite squarely between 42nd and 43rd streets); install computer-based elevator systems; upgrade the electric and HVAC capabilities; and even, as at One Penn Plaza, install a cogeneration plant, which at 2 megawatts will provide about half of 330 Madison's energy needs at peak mode and, as a byproduct, about a third of the building's steam requirements.
If the tower wants to keep up with the Joneses, the lovely old lady probably needs the face-lift. Back when the Mendik Company, which merged with Vornado in 1997, bought the tower in 1979, 330 Madison was the fresh face on the block, its more modernist facade surrounded by a crowd of heavy masonry buildings.
But over the past 30 years, the competition has sharpened, likely emboldened by the rehabilitation of Grand Central Terminal in the 1990s. By 2004, Brookfield Properties had completed construction of 300 Madison Avenue, designed by Skidmore, Owings & Merrill, which also, for that matter, designed the old Bear Stearns tower at 383 Madison Avenue. We could go on, but you get the idea.
Now it's 330 Madison's turn. The building, rising 39 stories and holding 742,000 square feet, has nearly 180,000 square feet of available space, much of it sublease space, according to CoStar. Its tenants include HSBC Securities, Wells Fargo and alleged fraudster Stanford Capital Group. Tenants will remain in place during the two-year-long process.
Odd as the timing may seem, down markets can be ideal times to take on projects like this, according to Craig Evans, a senior managing director at Colliers ABR.
"Like with hotels, it's better to renovate when the market is weak," Mr. Evans said. "Real estate is a long-term investment and this will pay off over time."
Assuming, of course, the long-term prospects for the commercial real estate market in New York City are good ones.
"That's a perfectly appropriate assumption to make," Mr. Evans said.
drubinstein@observer.com