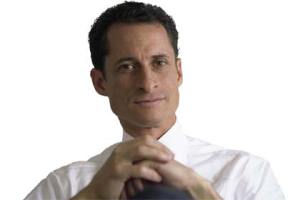 When Michael Bloomberg sought to change the city's term limits and run for re-election, he chalked it up to the city's unprecedented fiscal crisis.
Today, one of his potential Democratic challengers, Representative Anthony Weiner, used the same reason—the fiscal crisis—to explain why he's not committing to the race.
In a statement to supporters, Weiner wrote: "At the beginning of the summer when Congress takes a break, I will look at the lay of the land again and try to determine the best political course."
A Weiner campaign adviser said afterward that nothing has really changed on their end, since the letter to supporters echoes what Weiner has been saying publicly for months.
But it did seem to be part of an incremental retreat.
On Monday, Weiner told reporters in City Hall he was in fact still running for mayor, but not "eager" for the race to start sooner than it had to. A reporter who saw Weiner at a parade on Staten Island on Sunday described him as unmotivated and not engaging with the public.
Weiner's would-be rivals pounced.
Eddie Castell, the campaign manager for Comptroller Bill Thompson, who would be Weiner's toughest opponent in a primary, emailed to say that his candidate "doesn't have to look at the lay of the land in the summer to know that during these tough times New York City needs new leadership that will fight for working families, create jobs and bring change to City Hall. That is why he is running for Mayor."
Bloomberg's campaign spokesman, Howard Wolfson, said over email that "for the mayor, it's not about making the best political course—it's about doing the right things, making the tough decisions and showing real leadership."
Weiner's early withdrawal, if that's what this turns out to be, would be great news for Thompson and, on balance, bad news for Bloomberg. It would offer Thompson a clear path to the nomination (Tony Avella notwithstanding) and would allow the comptroller to preserve his limited resources for what would be an uphill contest against the billionaire mayor.