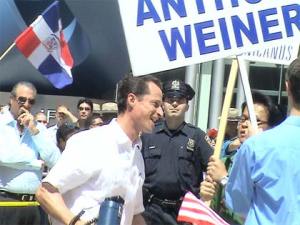 Last week, Anthony Weiner stopped just short of withdrawing from the mayor's race, telling supporters he's focusing on his job in Washington.
"You won't see me holding campaign rallies. You won't see me knocking on doors asking for votes," Weiner said.
Yesterday, he marched in the St. Patrick's Day Parade in the Bronx, which is the sort of activity often undertaken by candidates.
There was nothing particularly unusual in it — Weiner is certainly no stranger to parades — but I figured I'd contact his spokesman John Collins just to make sure things hadn't changed. Collins responded by email: "Anthony goes to this parade every year and you can count on him working hard when he is in New York City and working hard for New York in Congress when he is there too."