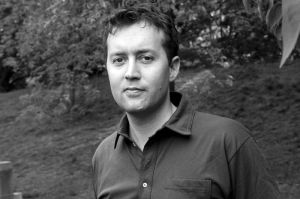 "Being a human being isn't just all misery and despair. There's a lot of available joy out there, even if we don't often find it. I think that fiction should find opportunities for joy."
Sitting in his sunny apartment in Greenpoint about six weeks ago, the short story writer Wells Tower was explaining why he's not that into books that relentlessly punish their characters in the service of illustrating the brutality of life on earth.
"The real struggle, I think, is getting to a place where you can be believably generous to a character, where you can show somebody fumbling for redemption in a way that's believable and not stupid," Mr. Tower said, his shoulders square and his hands playing with each other on the kitchen table. "I think what people really want is fiction that in some tiny way makes their life more meaningful and makes the world seem like a richer place. The world is awfully short on joy and richness, and I think to some extent it's the fiction writer's job to salvage some of that and to give it to us in ways that we can believe in."
Despite its title, Mr. Tower manages to salvage rather a lot in Everything Ravaged, Everything Burned, the collection of short stories he has just published with Farrar, Straus and Giroux. The book is a triumph of a debut—not just believably generous, but revelatory in its rendering of all the different kinds of hurt that a human being can sustain in the course of a life. The characters that populate Everything Ravaged experience humiliation, loneliness, and anger in all their varieties, and their wounds are described by Mr. Tower with unflinching affection and tenderness. These are stories about people, mostly men, succumbing to their weaknesses– resentful sons, first husbands, angry brothers, all of them somehow guilty or deformed but all trying, clumsily, to either make someone happy or be in love or just for once not feel really disappointed.
Incredibly, the book opens with the first short story Mr. Tower ever wrote, the delicate and impeccably paced "The Brown Coast." It was composed during the author's first year in the Columbia fiction program and published, against all odds, in the spring 2002 issue of The Paris Review after someone there discovered it in the slush pile. ("Down Through the Valley," which Mr. Tower submitted to the Paris Review at the same time as "The Brown Coast," was actually published first, in the fall of 2001).
Like most of Mr. Tower's work, including the long-form journalism he's written over the past five years for The Washington Post Magazine and Harper's, "The Brown Coast" is full of magnificent descriptions and imagery that recast the material world in completely unfamiliar—and yet intuitive—terms. A man sleeps on the floor, "quietly honking in his slumber." Another takes a drink of champagne and vodka and recoils as a "sour heat" blooms in his belly. A half-hearted extramarital affair is said to have had "no joy in it, just a two-week spate of drab skirmishes in a basement apartment that smelled heavily of cat musk." Reading stuff like this, you realize nothing—no experience, no feeling, no sound, no smell–has been described for the last time.
Prior to his enrollment in the Columbia MFA program in the fall of 2000, Mr. Tower, now 35, had spent much of his adult life playing guitar in a punk band called Hellbender, which formed in 1991 when he was a senior in high school and persevered for six years even as all three members shipped off to different colleges. Named after the giant species of salamander, Hellbender also included Mr. Tower's lifelong best friend Harrison Haynes, now a painter and the drummer in the rock band Les Savy Fav, and a guy named Al Burian, now best known for his celebrated zine, Burn Collector. Starting in 1993, Mr. Tower and Mr. Burian published a zine together called Foodbox. This served as the primary outlet for Mr. Tower's writerly inclinations until he got a job at the University of North Carolina Urban Planning Department and convinced his boss there to let him write the monthly newsletter. As he put it, "I was just dying to do something where I got to write sentences."