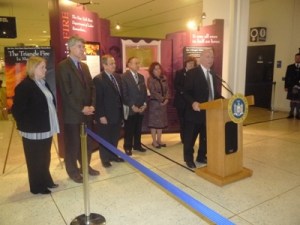 ALBANY Senate Majority Leader Malcolm Smith was scheduled to speak at two events this afternoon, but missed both.
"He's in negotiations," said Travis Proulx, a spokesman.
Exactly where he's negotiating not clear. A gaggle of reporters, include including myself, just spent some time traipsing around the Capitol in search of Smith, but couldn't find him.
Here's a photo of one of the skipped events: former state senator Serf Maltese speaking at a commemoration of the victims of the fire at the Triangle Shirtwaist Factory (his grandmother and two aunts were among the 146 victims).
UPDATE: I assure you that I love gerunds as much as I love all of you. Sometimes I'm just in a hurry.