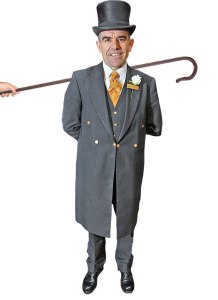 Manhattan doormen, ably trained as they are in the art of regulating traffic in and out of the city's abodes, might want to start battening down the hatches: The economy … is … coming. In these troubled economic times, some residential building workers, who are members of the union 32BJ, are finding their services superfluous to requirements in the city, with some union members already losing jobs.
So add doormen, especially those working in rental buildings, to the list of luxury amenities that New Yorkers are no longer eager to pay for, along with rooftop decks, in-house recreational facilities, haute design fixtures and indoor swimming pools.
"Tenants are sacrificing living conditions," Marc Lewis, the president of Century 21 NY Metro, said. "They are leaving doorman buildings and going into elevator buildings."
Formerly the white-gloved vestige of an antiquated Upper East Side lifestyle, uniformed doormen spread during the boom to every corner of Manhattan, their most familiar habitat being the new-development building in Manhattan. But because of falling rents and increasing vacancies, landlords are looking at tighter balance sheets, and that just might mean a thinning of the ranks in the doorman brigade.
So far in 2009, 32BJ, which also represents cleaners, porters, supers and security guards, has implemented approximately 70 workforce reductions, which is roughly the same amount as in all of last year.
Troubles in the market for doormen rental buildings were evident as early as last February, when this very column noted that "Manhattanites are ditching doorman buildings." A year and several economic crises later, and you can only imagine how things have worsened. From September 2007, around the time the rental market peaked, to February 2009, mean rents for apartments in doorman buildings plummeted faster than anything this side of Citi stock.
In the span of 17 months, rents on doorman-building studios fell by 15 percent; rent for doorman-building one-bedrooms dropped 13 percent; and rents for doorman-building two-bedrooms slipped 9 percent, according to statistics from the Real Estate Group New York.
According to that firm's COO, Daniel Baum, landlords of doorman buildings are more vulnerable to a slumping real estate market. "At luxury buildings or doorman buildings, they have to take aggressive action," Mr. Baum said. "Because of their added costs, they have more exposure to vacancy rates."
It's no surprise, then, that landlords and management companies might be looking for ways to cut costs, especially since the crashing rents are accompanied by a major reduction in demand and a startling rise in vacancy rates. (Or is it the other way around?)
If less people are paying rent at reduced prices, something has to give. According to Phil Whalen, a principal at Key Real Estate, a real estate firm specializing in property management, landlords are starting to negotiate staff reductions with 32BJ. One landlord, who wished to remain anonymous, has indicated that the union is more willing to negotiate staff levels than in the past.
Unlike non-union workers, the union salary is set in stone—at least until the next round of contract negotiations—so payroll cuts invariably mean job cuts. Members of 32BJ make $18.94 an hour, which translates into $757.60 for a 40-hour work week and a little less than $40,000 in annual salary; employers are also on the hook for about $1,080 in quarterly benefit payments, which include health care, pension payments and other expenses. And it's getting harder to cover those expenses, according to Mr. Whalen, who is especially concerned about underwriting health care costs.
According to Matt Nerzig, the director of communications for 32BJ, the union is paying close attention to the situation. Unlike, say, the UAW, layoffs and staff reductions haven't been a fact of life for 32BJ.
"We've been unaffected by layoffs for a long time, but they really seem to have started in recent months," Mr. Nerzig said. So far, most of the staff reductions have been concentrated in Brooklyn and Queens, and whether they jump the river and start becoming prevalent in Manhattan remains to be seen.
ohaydock@observer.com