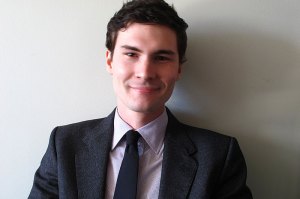 Ask him what makes a good literary agent, and 27-year-old Chris Parris-Lamb will reply in a tone of voice that suggests he has thought carefully about his answer and concluded that what he wants to say is sort of obvious and straightforward. He sounds exasperated and a little disappointed in himself as he does this— like he wishes he could give you something more creative or insightful but can't because sometimes the truth just is what it is.
"I mean, people in this business will listen to you if you have something good," he said on a recent Friday afternoon in his bright, spacious office at the Gernert Company. "If they want the book, they want the book. That's what builds your reputation. You sell a few things that get a lot of attention or that have a lot of people in an auction, and, you know, you start going to lunch with editors in chief. … I really feel like if you hustle, if you put in the time and energy to get out there and read, there's a lot of good writing and a lot of good ideas. There are books out there waiting to happen."
Though the tumult engulfing the publishing industry lately has left most editors extra-cautious about taking on unknown writers, Mr. Parris-Lamb has managed over the past year to sell a tall stack of books by first-time authors, some of them for money that would please even the most seasoned veterans. Among the notches in his belt: a high six-figure deal with the Penguin Press for video game designer Jane McGonigal's Reality Is Broken, and more recently, one with the Free Press for Harvard writing teacher John McMillian's Beatles Vs. Stones: The History of a Legendary Rivalry. Also: five debut works of fiction (including J. Saunders Elmore's The Amateur American, the film rights to which were recently sold to the producers of Synecdoche, New York); a book on the future of cities, by Alan Ehrenhalt, which will be published by Knopf; and a strange and supremely heady illustrated guide to the NBA by blogging collective Free Darko, which references Amare Stoudemire in the same breath as philosopher Martin Buber. And though he has not yet succeeded in convincing Jay-Z to do a memoir—"Man, that is like the memoir of the decade waiting to be written!"—he did sign up a novel-in-progress by indie rock icon John Darnielle of the Mountain Goats.
Born in Birmingham, Alabama and raised in the small mill town of Burlington, North Carolina, Mr. Parris-Lamb got his first exposure to what he calls "the bigger world" as an eighth grader, when his English teacher turned him and his friends on to the Ramones and Kurt Vonnegut. When he wasn't competing in quiz bowl and the baseball team, he played guitar in a band called Flux and went fly fishing in the mountains with his retired army major dad.
After graduating from the University of North Carolina, Mr. Parris-Lamb (he was just "Chris Lamb" until he married his college girlfriend and added her last name to his) broke into publishing as an assistant at the boutique literary agency Burnes & Clegg, which imploded less than six months after he got there when one of its founding partners, Bill Clegg, abruptly left New York to seek treatment for drug addiction while the other one, Sarah Burnes, was out on maternity leave. As severe a catastrophe as any agency has suffered in recent memory, the incident left every writer on the Burnes & Clegg client list—which included Cecily von Ziegesar and actress Catherine Lloyd Burns—without a clear fate.
Not a little traumatized, Mr. Parris-Lamb considered quitting the business altogether and going into magazines, but instead followed Ms. Burnes to her new job with David Gernert, the former Doubleday editor in chief whose small, well-regarded agency on 57th Street and Lexington has enjoyed uncommon stability since its founding in 1996, thanks to its reliably lucrative marquee client, John Grisham.
"I came with Sarah to Gernert because I didn't have any other choice—I couldn't miss a paycheck," Mr. Parris-Lamb said. "She was seven months pregnant and she needed someone to hold down her client list, so I just came with her, and the deal was that when she came back from maternity leave, she'd help me find another job." 
In the meantime, Mr. Parris-Lamb kept busy stanching the fallout from the dissolution of Burnes & Clegg, making sure that all of Ms. Burnes' writers knew what was going on and doing the legwork necessary to move them safely to Gernert. In the process, the young assistant grew up way faster than he might have under normal circumstances.
It was around that time that Ms. Burnes gave her young charge the green light to try to sell his first book, a formally experimental novel, by Hillary Jordan, about racism in the South, narrated by six different characters. The manuscript, titled Mudbound, came into the Gernert Company through the slush pile in August 2005, while Ms. Burnes was still out of the office, and Mr. Parris-Lamb "flipped for it" right away.
He was about to go out with it when he hit a snag. Turned out that when Ms. Jordan sent her manuscript to agents, she also submitted it for consideration for the Bellwether Prize, an annual contest sponsored and judged by Barbara Kingsolver that honors fiction concerned with social issues. When she received notification that she'd won, it was something of a mixed blessing: The good news was that it came with $25,000 in prize money; the bad was that it also came with an automatic contract from Scribner. For a moment, it appeared that Mr. Parris-Lamb no longer had a book to sell. Worse, Scribner wanted to make drastic changes to the manuscript. Evidently six narrators was five too many, and would Ms. Jordan perhaps consider rewriting it with just one? 
After some delicate wrangling—"It was insanely complex and he navigated those waters very gracefully," said Ms. Burnes—Mr. Parris-Lamb arranged for his client to keep her prize money but get out of the Scribner commitment. It was a risky move, considering it was quite possible that no one else in town would want her book when he went out with it. 
As it happened, no one else in town did. Instead, Mudbound found a home with the North Carolina–based independent Algonquin Books, whose offices, poetically enough, are located less than an hour from Mr. Parris-Lamb's hometown. Published last March, the book has gone on to sell 30,000 copies and has, against all odds, registered as a legitimate hit in the U.K. thanks to influential TV duo Richard and Judy, who featured it on their talk show.