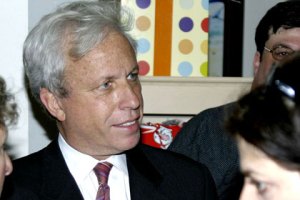 If Bill de Blasio, Eric Gioia or Norman Siegel is going to win the Democratic primary for public advocate, one or more of them will have to damage Mark Green, probably by bringing up some of the less appealing political chapters in his past. They know this.
The catch: They're all waiting for someone else to do it.
"Whether I bring them up or de Blasio or Gioia will" is unclear, said Siegel. "But somebody will bring it up. So many people have brought it up to me already."
The conventional math at this early point in the race is that Green, who was elected two times as public advocate and has run unsuccessfully for many, many other things, is the best known of the Democratic contenders. In the absence of any controversy that might affect Green's standing, or at least bring some extraordinary attention to this down-ballot contest, many voters will simply vote for the name they recognize. The onus, then, is on Green's opponents to provide reason for them to do otherwise.
For what it's worth, Green's campaign won't be taken by surprise when the onslaught begins.
"We intend to run and to the extent that opponents start to sling mud, then everyone's record becomes fair game," said Mark Green's campaign manager, Paul Rivera. "We're not going to throw the first stone."
Green entered the race late, but was instantly considered the 800-pound gorilla in the primary field once he floated the idea of running for his old job. Earlier this week, his campaign announced they'd raised $143,285 in the latest filing period—more than any of the other candidates. (His total is still far behind his those of his rivals, who have been campaigning hard for months.)
In a phone interview, Rivera told me he hoped the campaign would focus on the issues involving the office, and not on his boss' personality or past political fights. But Rivera said he didn't need a reminder of the unflattering material to come: the racially tinged dust-up during the losing 2001 campaign for mayor, the lingering fallout from that race more than two years later, the aggressive, losing 2006 campaign for attorney general.
The inevitable suggestion that Green is working to distance himself from his past, something of a theme for him, has lost something of its former freshness.
"I do think those issues will come up," said Siegel, a civil liberties attorney who is making his third run for the office.
Aides on the campaigns for both de Blasio and Gioia acknowledged the political benefits of reminding voters of Green's less flattering career highlights. But each campaign said they would not be the ones to raise the issues.
At public events, Gioia has framed his candidacy as a break from the political fights of the past decades, and echoed Barack Obama's calling for a new, more ethical age of public service.
A Gioia supporter said that Gioia's camp considers Green formidable, but also very much like a very unpopular incumbent. The strategy for undermining his standing is based on the notion that they'll be able to invoke his past, without talking about specific episodes, by generically denouncing old politics and pointless divisions.
A source on de Blasio's campaign says Green has made unforgivable mistakes in the past that make him an unacceptable candidate. Like Gioia's people, this source said that the candidate will not open those discussions, but also said that Green's record will be a natural topic of conversation in the campaign and that outside voices with an interest in the election will certainly have lots to say about his past.
Siegel, who considers Green a friend, said the issue of Green's history may be hard to avoid. "There have been people who've suggested I bring up the points you've said"—2001, 2006, a general perceptions about a smug temperament—but Siegel said he'll "wait and see how the campaign evolves and what he's saying in the campaign."
He added, "I've always enjoyed getting up and giving the rebuttals."