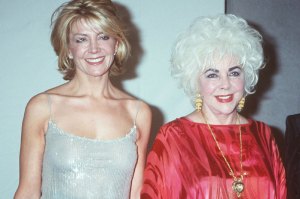 In 1999, Natasha Richardson and I were tossed together in a hurricane of frocks, one or two of which smelled distinctly of mothballs.
"Unforgettable—Fashion of the Oscars" was a complex serial benefit for the American Foundation for Aids Research (amfAR), instigated and propelled by Natasha. Vogue, Christie's and Barneys were the sponsors. While Anna Wintour steered the ship, La Richardson did all the dirty work.
Using her charm and signature smoky voice, the actress—who died on Wednesday, March 18 after a head injury during a skiing accident—somehow persuaded a battalion of major celebrities to surrender their Academy Awards frocks for auction, thereby raising over $1.5 million. Securing the chiffon donations was no easy feat. Many of the gowns hailed from the pre-freebie era when stars bought their own dresses and actually developed—drum roll, shock, gasp—sentimental attachments to them. Any reluctance to relinquish a gown, however, quickly evaporated when Natasha's dulcet tones issued forth through the phone receiver. Before they knew it, the stars were shaking the dust off their Lacroixs, Scaasis, Mackies and XSLS and handing them over.
The installation of these dresses for display at auction was a complex and surreal affair, requiring many different sizes of mannequins—Madonna's Olivier Theyskens number was minute!—and many meetings with Natasha. Our first was at Fred's at Barneys. She was a gamine in jeans, tailored jacket and a tweed newsboy cap. Her honey-colored locks were organized into two schoolgirl braids—or plaits, as we Brits call them—which dangled fetchingly onto her clavicles. She was warm, hilarious and intelligent with a well-developed sense of camp. "Why can't all celebrities be like you?" I thought as I poured her another cuppa.
I told her that her movie director dad, Tony Richardson—Tom Jones, A Taste of Honey, The Loved One, etc.—was an inspirational figure to me and made her sign my copy of his autobiography. She seemed genuinely touched by my enthusiasm. Her commitment to amfAR was, she explained, driven by the pain of his death from AIDS in 1991 at the age of 63.
The fund-raiser was an ambitious three-part caravan, trundling from New York to London and ending in Los Angeles. All the frocks were shlepped from city to city and installed by yours truly. The whole escapade—we were like a traveling group of thespians and carnies—ran over the course of several weeks and was filled with memorable moments. Natasha's sweetness, sense of fun and appreciation for the absurd permeated the whole enterprise and repeatedly defused otherwise gruesome moments of tension.
When a sea of press and glitterati were kept waiting at the New York opening by Elizabeth Taylor—José Eber was foofing her new hairdo at a nearby hotel—Natasha placated the other divas with great savoir-faire. Lauren Bacall was the only holdout: "Missy, where the hell have you been?" boomed the famous voice, when La Taylor finally sailed into view.
And then there was Vanessa. Natasha's mum was her daughter's biggest supporter throughout the series of events. The world's greatest living actress was surprisingly affable and jolly: The irate, ultra-lefty Vanessa—remember the Workers' Revolutionary Party?—was nowhere to be seen. A spirited raconteur, she kept us all in stitches one night with the white-knuckling story of how, while Jack Palance was buggering about onstage doing push-ups at the 1993 ceremony, she almost won for Howard's End. Speculation among Redgrave supporters abounded at the time: Had the inebriated Palance, rather than read the name in the envelope (Redgrave?), simply read the last name on the auto-cue (Marisa Tomei)? Allegedly!!!!
Regarding fabulous mothers: During the London leg of the frock tour, Betty Doonan was diagnosed with cancer. "Don't worry," gushed Natasha reassuringly, "lymphoma is very treatable. She will probably live for another 30 years." I replied that since my mum was already 80, such a prognosis would easily catapult her into The Guinness Book of World Records. She responded with much theatrical mortification and a warm hug.
I recently re-watched Paul Schrader's movie Patty Hearst. The abused heroine, played gorgeously and brilliantly by Natasha, spends the first half of the movie locked in a cupboard, blindfolded with filthy pot scrubbers and duct tape. In my mind's eye, I could see Natasha, lighting up a ciggie between takes, uncomplainingly immersed in her role and enjoying every minute of it.
sdoonan@observer.com