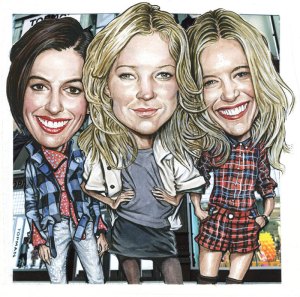 Late last week, the comely blond British socialite and model Poppy Delevigne, 22, called from her Nolita apartment—several blocks from the new four-story, 40,000-square-foot Topshop behemoth lurking behind covered windows at Broadway and Broome—and described some of her favorite items from the British retail chain, like an "amazing" emerald-green, one-shouldered dress designed by the model Kate Moss. >
"They did it in red and I missed it in my size and I literally cried for days, and I wear that pretty much twice a month, especially when the sun comes out," Ms. Delevigne said. "And then I have a leather jacket that I live in every day that I bought about two years ago. It looks so old and worn, no one believes that it's Topshop!"
Ms. Delevigne said she'd probably wear the jacket to private events for the long-awaited opening of the New York store: intimate affairs for celebrities and "friends" of the brand, which include a dinner at Balthazar and a small party at Simon Hammerstein's downtown club the Box on Thursday, April 2, the day that—barring unforeseen disaster—Topshop will finally fling open its doors stateside.
"We've been waiting with bated breath," said TeenVogue fashion news director Jane Keltner, who conceived an entire feature on British style around the store's original October opening date. "It's just what the recession-weary New York City fashion girl wants and needs right now—great clothes at a good price."
But isn't the New York City fashion girl utterly glutted with cheap chic imports, from Zara to H&M? Is it possible that, like an elusive love partner, the special appeal of Topshop has resided in its inaccessibility?
The store's mobbed Oxford Circus flagship hawks acres of neon gummy bracelets, Batman T-shirts and shlocky accessories alongside J Brand for Topshop jeans and Ms. Moss' exclusive three-year-old line. In New York, the brand has thus far enjoyed a more rarefied clientele: the kind of stylish New Yorker who travels often to London, or has friends who do.
Not that even the jet-setters among us won't be happy to escape prohibitive exchange rates.
"I am living for the New York opening of Topshop!" emailed American maternity designer Liz Lange the other day from Anguilla, where she was vacationing with her blue paisley cotton racer-back Topshop beach cover-up (about $40 at the Oxford Circus store). "Everyone I know who likes to shop and likes fashion is counting the minutes."
There have been a lot of minutes. The chain's quotable head honcho, Sir Philip Green, told Women's Wear Daily that the process has been "a logistical nightmare," fingering the construction snafus and permit delays on the landmarked building for the thrice-delayed opening, and denying that the economy was at all a factor .
New York fans have been making do in the meantime with Topshop "capsule" collections at Barneys (2007) and Opening Ceremony (2004 until just recently), where the store's inexpensive knock-off wares basked in the reflected glow of designer offerings by Proenza Schouler and Alexander Wang. In September, a U.S. Web site finally allowed New Yorkers to begin shopping online, and this week, guerilla street teams will blanket downtown with Topshop gift cards. Then, at 11 a.m. on April 2, Sir Philip himself will appear at the flagship, accompanied, Topshop execs hope but will not confirm, by Ms. Moss herself. "We're making homemade British biscuits," said Andrew Leahy, the genial London-based Topshop publicity director.
PALTROW'S PICK
To some, it seems like an awfully grand rollout.
"They've been acting like it's the second coming!" exclaimed American Elle writer Maggie Bullock, a loyal Topshop customer since she studied fashion journalism at Central Saint Martins almost a decade ago. "I feel like it's been announced that it's coming 17 times. Topshop is fantastic, but it's not going to solve every wardrobe problem in the world. I moved back to the States from England seven years ago, and there was nothing, there was no place that could substitute for Topshop, but now I feel like other places have come along and you do get some of that hit of fast fashion. H&M has gotten much better and is actually more of a competitor than it used to be."
Julie Baumgardner, a 25-year-old fashion publicist who first shopped at Topshop in London at age 17, agreed. "It pitched itself as the British Barneys taste with Urban Outfitters wallet, but in reality, it's more like Urban Outfitters taste with Barneys Co-op prices," she said. "I've seen shoes costing up to $250!" (That said, "I really love my gray low-rise skinny jeans.") Ms. Baumgardner ventured that the store has let their prices climb and their quality slack after accruing an almost cultlike celebrity fan base that includes Lindsay Lohan, Keira Knightley, Kate Bosworth, Mariah Carey and Gwyneth Paltrow (who recently featured a Topshop dress in her disturbingly addictive weekly lifestyle newsletter, Goop).
"I obviously am excited that it's coming to the U.S. since it's another relatively inexpensive outlet for cute, trendy clothes," said Ms. Baumgardner. "But it's frustrating to observe that the corruption of its identity is directly proportional to the hype it receives."
But Topshop's defenders swear that the store deserves the hype.
"It is very cool, it's very edgy, it's taking like an Ossie Clark–type inspiration, which is a cool dress as opposed to a preppy dress," asserted Plum Sykes, the British socialite, novelist and Vogue correspondent, whose husband proclaimed an outfit involving a tailored white Topshop blazer his favorite outfit she'd ever worn.
"It's very English in its treatment of dresses; it's always dresses with the ripped fishnet tights and biker boots. Probably more what you would think of as the Lower East Side cool, but even beyond that, with the English eccentricity wrapped in. It isn't like that sort of American Main Street brand, like a J. Crew or a Banana Republic, that is very much trying not to be too cool, do you know what I mean?"