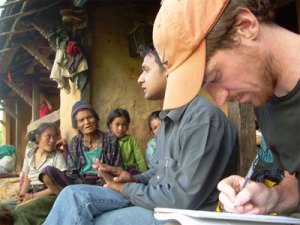 Just over a week after selling Kathy Griffin's memoir for more than $2 million dollars, rookie Endeavor literary agent Trena Keating has closed another seven figure deal, this one for the story of Conor Grennan, an American who volunteered in Nepal after college and later opened his own orphanage in Katmandu.
Ms. Keating, who was the editor-in-chief at Dutton before joining Endeavor last September, sold Mr. Grennan's book at auction on Friday, Feb. 27th for north of $1 million to the William Morrow imprint of HarperCollins.
Mr. Grennan's tale begins shortly after he graduated from UVA and volunteered at an orphanage in Nepal called Little Princes, which provides a home for children who've been separated from their families—sometimes by Maoist soldiers, other times by traffickers seeking to sell them into labor—as a result of the civil war there. Mr. Grennan's book, which will be edited by Laurie Chittenden, will deal partly with his time at Little Princes, but will also cover his efforts to reunite lost children with their families as well as his experience starting an orphanage of his own.
According to two sources, Ms. Keating broke up the auction last week into two phases, with the highest bid submitted during the first round coming in at $800,000, and William Morrow prevailing in the second with an offer somewhere in the neighborhood of $1.3 million.
The auction was originally supposed to take place the week before last, but Mr. Grennan's pregnant wife unexpectedly went into labor shortly before the author was scheduled to meet with publishers and the process was postponed.
Ms. Keating declined to comment on the project. Ms. Chittenden, who left her job as an editor at Dutton for William Morrow a few months before Ms. Keating became editor-in-chief there in September 2006, did not return calls seeking comment