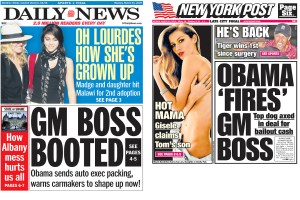 New York Post: Supple, pretty, carefully photographed flesh: Where would tabloid covers be without it? And for today's New York Post we have Gisele Bundchen to thank, and Vanity Fair, which presumably allowed the Post to use one of the fleshier images from the magazine's photo spread on the Brazilian newlywed to promote its piece of celebrity "gossip." Ms. Bundchen recently married Tom Brady, but while they were courting there was a little issue, literally: Mr. Brady's ex, Bridget Moynahan, was pregnant with their child. We have a feeling that some wires got crossed in the Post's appropriation of the supermodel's Vanity Fair interview (which no doubt will be just fine with Vanity Fair!). "I understand that he has a mom, and I respect that," she tells the magazine in what the Post calls a "revealing interview," referring to Ms. Moynahan. "But to me, it's not like because somebody else delivered him, that's not my child—I feel it is, 100 percent." What does the Post take away from this? "BATTLE OF BEAUTIES BREWING AS SUPERMODEL PLAYS PARENT," reads the inside subhead on the article. By the way, one day she plans to adopt a Brazilian urchin who sniffs glue on the corner. The point is: Lots of supermodel flesh dominates the left half of the Post's front page today. So the rest of our examination is necessarily perfunctory. O.K., "OBAMA 'FIRES' GM BOSS," that's the big news this morning. As a condition of ongoing government bailout support, which has been fueling the automaker since last year, GM CEO Rick Wagoner (funny name for an auto exec, no?) has to go. It's not clear what slant the paper is taking on this development: Is it Socialism? Or are the Fat Cats finally being Dumped for Messing With Your Tax Dollar$? The piece is written straight-ahead. Also, Tiger Woods is back! That's the smallest squib on the front page today. Maybe it belonged on the back.
Daily News: Have you heard that Madonna and her daughter Lourdes went to Malawi to try to get more children? No? Then you're probably not too interested in gossip anyway and you won't want to bother picking up the Daily News to read more about it. On its front page, there's a clever pun attached to the story, which is presented in a banner at the top of the newspaper this morning: "OH LOURDES HOW SHE'S GROWN UP." See, there is a picture of Madonna and her daughter Lourdes, who is now 12 years old. Peek inside? "Lourdes, nicknamed Lola, has grown as tall as her 5-foot-4 mother and shares an almost identical smile. As she and her famous mother walked through the impoverished village, the locals stared at the young girl's bare shoulders, bangle bracelets and fashionable neck scarf." It's all very tasteful if you want; in fact it reads like a 19th-century society column. And yet somehow there's something not right about this kind of tabloid interest in a 12-year-old. When you pit this against the pretty sleazy "BATTLE OF BEAUTIES" over at the Post, it's a little hard to tell which is worse/better. No it's not: Gisele Bundchen is a supermodel! The News wins in its presentation of the Obama/Wagoner story: "GM BOSS BOOTED" is about as direct as you can get. But, as at the Post, it's all text and nobody is going to pick up either paper for this story, which is really yesterday's news anyway. Part 2 of a series, "State of Shame," about the budget mess in Albany, is a workmanlike presentation of what is perhaps the most underused tabloid story of the moment. We wonder if anyone considered a giant splashy cover of Albany devils with just the word 'SHAME' over the top? Obviously the News has made a calculation in the public interest to promote the story even if they despair of its getting many readers. If it were important enough to the Post, they'd take the risk.
General observations: Bundchen beats Lourdes; slight advantage to Daily News on the GM story; what's left? Tiger Woods vs. Albany shame? We'd like to penalize the News for not just choosing today to go completely mental on Albany, but we can't really give a win to the Post for Tiger Woods.
Winner:New York Post. Supermodel flesh is almost unbeatable, but we'd have thought twice if something as compelling—even to higher-order mammals—were going on over at the News today.