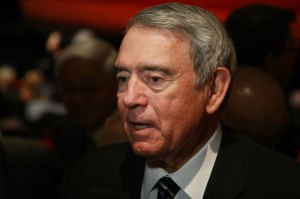 Since its inception in the fall of 2006, HDNet's Dan Rather Reports has served as a long-form showcase for the insatiable reporting appetites of one Category-5 newsman—namely, Mr. Rather.
But according to sources, the program's executive producer Wayne Nelson wants to upgrade from the current solo configuration to an ensemble cast and has recently begun looking for new correspondents. Reached by phone on the afternoon of Tuesday, March 3, Mr. Nelson confirmed as much to The Observer.
Mr. Rather is a notoriously hardworking reporter who doesn't mind flying solo and doesn't tire easily. That said, in recent times, he has racked up a hefty number of frequent flier miles, filing stories from hot spots around the planet, including China, Afghanistan and the Galapagos Islands.
"We're doing an enormous amount of shows—42 a year," said Mr. Nelson. "Which is hard for anybody. Dan's been all over the place, and he's not stopping."
Mr. Nelson said that bringing in a couple of additional correspondents would not only relieve the work burden on Mr. Rather but also free him up to go to more places, "rather than having to come back here to work with producers to track or do stand-ups or whatever."
What is Mr. Nelson looking for in a new hire?
"I wish I could tell you the perfect person," said Mr. Nelson. "Give me another Dan Rather. I'll take one of those.
"It's hard to find anybody I'm comfortable with," he added. "They are out there, but they're all under contracts with networks."
Dallas Mavericks owner Mark Cuban launched HDNet in September 2001. While Dan Rather Reports attracts a much smaller audience than brand-name network newsmagazines such as 60 Minutes, Dateline and 20/20, the show has in its brief history earned a reputation as a solid venue for investigative reporting and dramatic storytelling.
Whether HDNet will pay potentially interested candidates as much as the top network shows remains to be seen. But Mr. Rather, for one, is well compensated. Recent court documents filed in Mr. Rather's ongoing lawsuit against his former bosses at CBS News revealed that HDNet currently pays Mr. Rather, on average, $1.5 million per year.
In any case, whoever eventually joins the program shouldn't expect to see his or her name next to Mr. Rather's in TV listings anytime soon. "It's always going to be called Dan Rather Reports," said Mr. Nelson.
fgillette@observer.com