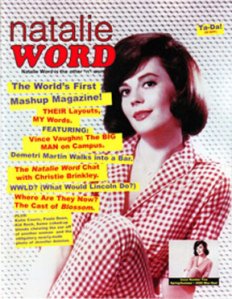 Read any good zines lately? Probably not! But then you probably haven't seen Marty Wombacher's Natalie Word.
Like Australopithecus Man to the Facebook generation's aggressively self-promoted minimalist squibs, paper-and-ink zines proliferated in the '90s with the advent of cheap desktop publishing software. Titles like Beer Frame, Answer Me! and Murder Can Be Fun littered the doorways of record shops and made their way to readers via second-class mail back when many bloggers were literal thumb-suckers, as opposed to merely writing like they are.
So the 50-year-old Mr. Wombacher's project, a two-issue-old zine that he distributes by hand and by mail to about 120 media people and sells as a PDF on Lulu.com, a print-on-demand Web site, is a bit of a throwback.
Mr. Wombacher, who hails from Peoria, Ill., was part of that moment, producing Fish Wrap, a zine devoted to magazines, which he produced from 1993 to 2000 and drew favorable attention from Rolling Stone's Jann Wenner and former Spin owner Bob Guccione, Jr.
As the millennium dawned, Mr. Wombacher found himself burned out.
"I thought I'd never do another magazine in my life," he told The Observer a few hours after dropping off a handful of unsolicited copies of Natalie Word on Tuesday. Mr. Wombacher, who works in printing, said his project was "just kind of something to do to keep busy."
But the new issue is also something of an experiment for Mr. Wombacher. Almost all of the issue's photos, display copy and layouts are directly appropriated from recent issues of magazines like Esquire, New York, GQ, Us Weekly and Vanity Fair. Mr. Wombacher, who said he subscribes to at least 20 magazines, used Esquire's layout for its December 2008 Vince Vaughn spread (along with photographer Jake Chessum's photos of the actor) for a bit of celebrity-profile satire; the issue closes with a parody of Vanity Fair's 'Proust Questionnaire' that includes illustrator Robert Risko's drawing of Katie Couric; the feature well is dominated by a rip on (and of) New York magazine's Feb. 8, 2009, profile of comedian Demetri Martin, which also prominently features photos by Mr. Chessum.
Mr. Wombacher calls it "a magazine mash-up," but any Brown art-semiotics major worth her Semiotext(e) library would call this sort of thing an act of détournment, or perhaps some sort of Duchampian bricolage.
A lawyer might say it's intellectual-property theft.
Fancy French jargon and legal talk aside, Mr. Wombacher says, "There's nothing too far out there as far as thinking goes. There's no real grand plan."
Adam Moss, editor of New York magazine, perused Mr. Wombacher's work for two minutes and told The Observer via email, "I gather they're not especially kind about what they appropriated, but, you know, fine with me. It's flattering that they would even bother."
Mr. Moss also expressed confusion, wondering, "Is there a point he's trying to make?"
After checking out Natalie Word's bare-bones Web site, David Granger, editor of Esquire, said he didn't have any particular feelings about it. "I'm not sure what harm it will do," he said.
Mr. Wombacher calls the magazine a "fun little exercise," and if it gets him some attention from the industry he's been obsessed with since before the Smashing Pumpkins broke up, so much the better.
"It's kind of a showcase," he said. "You never know."
mhaber@observer.com