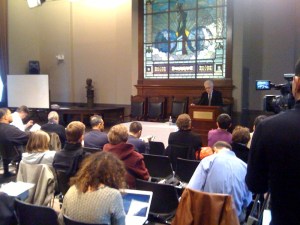 Driving rain couldn't keep about 50 reporters and bloggers away from from Columbia University, where the 2009 Pulitzer Prizewinners and Finalists were announced. Coffee, tea and cookies were served on third floor of the Columbia Journalism School as the winners' names were presented. It was noted that this was the first year online-only reports were eligible, but none of them won.
Among those who won journalism's top honors were The New York Times' David Barstow for Investigative Reporting, The Times' Staff for Breaking News Reporting, and Eugene Robinson of The Washington Post for Commentary.
Newsweek's Jon Meacham also won for his biography of Andrew Jackson
The New York Times was the big winner with five awards (which included criticism and feature photography). Bill Keller, The New York Times' executive editor, has gathered his team on the third floor of the New York Times Building to celebrate the news. Last year, Mr. Keller sounded a less-than-triumphant note about the whole notion of prizes, telling Times staffers, "Prizes are not why we do what we do, and prizes are not how we measure what we do. … Prize juries are human. They can be arbitrary. They can be political. They can be sentimental. They can miss the point. There are countless examples of truly great reporters who will not have a Pulitzer in the lede of their obituaries—and of profoundly important work that never gets a trophy."
We're assuming this year he sounds a little different.
The breaking-news-reporting prize went to the paper for the story that brought down the former New York governor and this week's Newsweek cover boy, Eliot Spitzer. (So, it's a good and bad week for Mr. Spitzer!) The international reporting prize was for coverage of Afghanistan and Pakistan. Damon Winter was awarded his feature photography prize for his coverage of the Obama campaign, and Holland Cotter won his criticism prize for his art writing.
News of The Times' good day was widely leaked on Niemanlab's Twitter feed, as well as Editor & Publisher's E&P Pub blog and Gawker.
Here's the list, courtesy of the official Pulitzer site:
JOURNALISM:
Public Service – Las Vegas Sun
Breaking News Reporting – The New York Times Staff
Investigative Reporting – David Barstow of The New York Times
Explanatory Reporting – Bettina Boxall and Julie Cart of the Los Angeles Times
Local Reporting –
Detroit Free Press Staff and
Ryan Gabrielson and Paul Giblin of the East Valley Tribune, Mesa, AZ
National Reporting – St. Petersburg Times Staff
International Reporting – The New York Times Staff
Feature Writing – Lane DeGregory of the St. Petersburg Times
Commentary – Eugene Robinson of The Washington Post
Criticism – Holland Cotter of The New York Times
Editorial Writing – Mark Mahoney of The Post-Star, Glens Falls, NY
Editorial Cartooning – Steve Breen of The San Diego Union-Tribune
Breaking News Photography – Patrick Farrell of The Miami Herald
Feature Photography – Damon Winter of The New York Times
LETTERS, DRAMA and MUSIC:
Fiction – Olive Kitteridge by Elizabeth Strout (Random House)
Drama – Ruined by Lynn Nottage
History – The Hemingses of Monticello: An American Family by Annette Gordon-Reed (W.W. Norton & Company)
Biography – American Lion: Andrew Jackson in the White House by Jon Meacham (Random House)
Poetry – The Shadow of Sirius by W.S. Merwin (Copper Canyon Press)
General Nonfiction – Slavery by Another Name: The Re-Enslavement of Black Americans from the Civil War to World War II by Douglas A. Blackmon (Doubleday)
Music – Double Sextet by Steve Reich, premiered March 26, 2008 in Richmond, VA (Boosey & Hawkes)