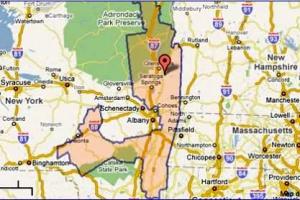 ALBANY—First, the Republican attorneys monitoring the recount in the race for Kirsten Gillibrand's old House seat objected to the ballots mailed in by multiple-home owners with return addresses in New York City or Florida. Then they objected to the ballots of college students from Skidmore. Then they challenged the ballot of … Kirsten Gillibrand.
They're not doing it because they believe the votes to be illegitimate, really. What they're doing, in the days and now hours leading up to the court hearings that will decide the outcome of the race between Republican Jim Tedisco and Democrat Scott Murphy, is creating a fact on the ground for the judiciary to overturn, if it dares.
"It's always better to be ahead—that's the whole goal of this process," said Nick Spano, a Yonkers Republican and former state senator who came out on the right side of a lengthy recount process in 2004, eventually winning by 18 votes.
As of the afternoon of April 14, the day before lawyers for the two campaigns were to appear in Dutchess County Supreme Court in Poughkeepsie for the beginning of hearings on the contested ballots, Mr. Tedisco—a state assemblyman who recently stepped down from his position as minority leader—was trailing by a mere 47 votes, according to the State Board of Elections. Pending a further canvass of votes in heavily Republican Saratoga County—and absent several hundred absentee ballots awaiting legal review—Mr. Tedisco was expected to head into the hearings with a slight lead.
At issue now is the fate of those few hundred absentee ballots that have been put aside. The vast majority of them were objected to by Republicans, mostly on the grounds, as National Republican Congressional Committee spokesman Paul Lindsay put it, that "voters in the 20th Congressional District do not want this race decided by residents of New York City."
"Our goal, as it has been from the beginning, is to ensure that every eligible vote is counted and that the integrity of this election process is protected," he said.
Not coincidentally, Democrats are highly confident that the vast majority of the ballots currently being held for review by a court will eventually be revealed to have been votes for Mr. Murphy, the mannerly venture capitalist who is making his first bid for public office.
"We're very, very confident that Scott remains ahead," said Representative Steve Israel, who is in charge of recruiting candidates on behalf of the Democratic Congressional Campaign Committee. "But it's clear that the strategy of the Republicans is to continue to delay the outcome and disenfranchise the voters. They're playing by the same rulebook that's being used in Minnesota"—a Coleman-Franken reference—"to deny the seating of a senator there."
So the court-reviewed votes will break for Mr. Murphy?
"After every vote is counted, he will expand his lead," Mr. Israel said.
THAT MR. MURPHY has gotten this far is something of a surprise. New York's 20th House District was sufficiently conservative to have been carried by George W. Bush in 2000 and 2004, and it was only special circumstances that allowed Ms. Gillibrand—herself a fairly conservative Democrat—to win election in 2006 over incumbent Republican John Sweeney, who was collapsing at the time under the weight of a number of inconveniently publicized personal issues.
When Ms. Gillibrand was selected by Governor David Paterson back in January to replace Hillary Clinton in the Senate, Mr. Murphy was barely known even among the 10 Democratic county chairs charged with selecting their party's nominee for the special election. Mr. Tedisco, by contrast, had spent three decades in public service, and started with a lead over Mr. Murphy that ranged from 12 to 20 percentage points in initial polls.
Now, it is the Democrats, here and, increasingly, across the country, who feel inexorable.
"From a national point of view, the Democrats have won," former D.N.C. chair Howard Dean said during a news conference at Union College in Tedisco's home city of Schenectady on April 13, according to a report in The Daily Gazette. "Now it's all over but the counting."
EARLIER THAT DAY, in a government building in the town of Hudson, the recount proceedings had slowed to a snail's space.
Fourteen people—seven from each party—sat at a table in the middle of a room used normally for meetings of the county board of supervisors. Board of Elections staffers and commissioners sat and bantered, while the lead attorneys for both sides sat nearby, mostly in silence.
The Tedisco campaign representative was a lawyer named James Walsh, who seemed tense as he sipped a can of Diet Coke.
"I have reason to believe that Mr. Cohen is a resident of the five boroughs of the City of New York," Walsh began a typical objection to one of the ballots being considered.
Each time, he objected to the veracity of the voter's application for a ballot, and then said that the vote should be thrown out because the voter was not a primary resident of Columbia County.
Virginia Martin, the Democratic elections commissioner, would usually overrule these objections. Her Republican counterpart, Deputy Commissioner Mike Nabozny, would sustain them. The votes would then be laid aside.
Mr. Walsh and Thomas Garry, who was representing Democrat Scott Murphy, looked on. Gregory Fingar, the Columbia County Republican chairman, leaned against the doorway.
"This is coming up a lot because of the close proximity to New York City—we're about 1.5 hours by train or a two-hour drive away," Mr. Fingar said. "We're no farther than the Hamptons."
The thinking behind the Republican attitude toward what Mr. Fingar called the "weekend population" is that they are mostly affluent professionals and that they lean Democratic.
The Democrats plan to argue in court, citing precedent, that multiple-home owners should be able to vote where they please, as long as they don't cast ballots in multiple places.
(Election law "does not preclude a person from having two residences and choosing one for election purposes provided he or she has 'legitimate, significant and continuing attachments' to that residence," according to a court opinion cited by Democrats.)
At one point during the proceeding in Hudson, Mr. Garry, the Murphy campaign representative, held up a yellow pad showing the names of some of the voters who had been challenged, and said, "Cohen, Pollack, Rosegarten, Winakor—there's a pattern: They're Democrats and they're Jewish."
Asked about this comment in a hallway outside the room, Mr. Walsh said, "My children are Jewish, and I'm offended at that. We have research to indicate that many of these people who reside on the Upper West Side and in Florida and other areas live there primarily, and they are continuously requesting absentee ballots in Columbia County when they are not eligible to vote there."
They finished counting the election district. There were a total of 14 ballots to be opened, and 18 that were laid aside because of objections. Of the 14, seven were for Mr. Murphy and five were for Mr. Tedisco. One was blank, and one was a mis-cast vote for Mr. Murphy.
Elsewhere, Tedisco campaign representatives had begun objecting to ballots cast in Saratoga Springs by Skidmore students, on the grounds that there were "questions" about their residency that ought to be decided by a judge.
(According to Skidmore News, a student newspaper, the voting on campus on the day of the special election broke in Mr. Murphy's favor by a margin of 167-11.)
On April 13, the number of total objections had risen to at least 600, by the estimates of both camps. Late on April 14, word came from an elections official in Saratoga County that more than 714 ballots had been challenged and put aside in that county alone. In other words, way more than enough to swing the election.
Read continuing coverage of the recount here.