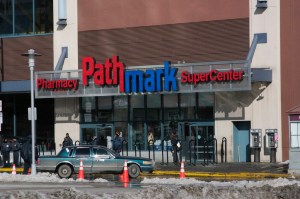 Let there be supermarkets.
City Planning Director Amanda Burden said Wednesday night that a zoning plan to encourage new grocery stores is just a few weeks away, with her agency planning to certify its proposal and kick off a seven-month public approval process.
"We are going to be certifying this month," she said, speaking at NYU's Wagner School for its Henry Hart Rice lecture.
The proposal, she said, encourages developers to build grocery stores by not counting the store as part of a larger building's development rights (i.e. if a developer is allowed to build a 50,000-square-foot apartment building with retail, if they put in a 15,000 square foot supermarket, it wouldn't be counted toward that 50,000 square feet), among other inducements.
The rationale: market failure. The city considers grocery stores to be beneficial to neighborhoods, but, especially in low-income neighborhoods, the numbers haven't been working for supermarkets, leading to store closures and a lack of food options for residents.
"Hundreds of supermarkets have closed all over the city," she said. "They cannot compete with Rite Aid and Duane Reade, and this is not only terrible for economic development, but it's terrible for the health of our city."
Back in early March, I wrote about this plan in something of a more nascent form, when draft documents of the proposal were circulating. Those drafts also called for tax incentives—real estate tax and sales tax reductions, specifically—to help boost the creation of new grocery stores.
This zoning proposal must get the approval of the City Council, and at the moment, it does seem to have union support—something that can make or break votes in the council.
Pat Purcell, an official with the of the United Food and Commercial Workers Union Local 1500, told me today that his union has been working with City Planning extensively on the new zoning plan, which he said would start out as a pilot in portions of four neighborhoods, including Jamaica, Harlem, and a neighborhood each in Brooklyn and the Bronx.
"We are excited about what they are doing," he said. "They have been extremely proactive in involving us."