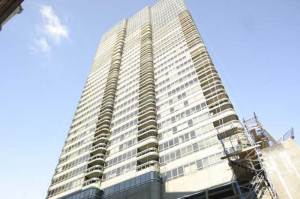 What with the fiery collapse of the magazine and newspaper industries, Condé Nast's Newhouse dynasty has graver concerns than getting top-dollar for company apartments around town. Still, it had to be at least mildly annoying that their five-bedroom duplex at East 76th Street's Promenade, listed last December for an outrageously fair $4,995,000, just sold for only $2,925,000, according to city records.
And it has to be even more irksome that their buyer, next-door neighbor Nick Sprayregen, the self-storage executive who's become relatively famous for his fight against Columbia University's uptown expansion, was once going to buy the 3,578-square-foot place for $3.5 million. "After offering that, I realized that my ability to get a mortgage was more problematic than I had realized, and so it was revised downward," he said this week. "They were very unhappy. But I think they knew they had someone who could follow through with the deal, albeit at a lesser price."
But that price comes out to only $817.49 per square foot, which is astoundingly inexpensive. Last quarter's average in Manhattan was $1,259, and apartments with four or more bedrooms averaged $2,831 last year.
The Times reported that the duplex had been used by Condé Nast International's Jonathan Newhouse. "I think he was constructing or renovating a brownstone downtown; that's what caused him to finally sell this," Mr. Sprayregen said. City records don't show any townhouse deals in Mr. Newhouse's name, though in 2005 he spent $3,375,000 on an East 29th Street co-op.
The mini-storage executive, who is suing New York over eminent domain (he's the last major private landowner left in the West Harlem area Columbia wants to expand into), has tentative plans to combine his two apartments into a seven-bedroom condo. "We just had our fifth child," he said, "so we're kind of busting out."
Mr. Newhouse and his broker, Elliman's Richard Ozada, did not return interview requests.
mabelson@observer.com