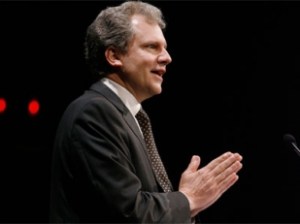 Today, Arthur Sulzberger, Jr. addressed New York Times Company shareholders at the company's annual shareholders meeting. It was a week of ups-and-downs for the Times Company, with Monday's announcement of five Pulitzer Prizes for the flagship paper followed two days later by a dismal quarterly earnings report, which saw the New York Times Company's debt totaling $1.3 billion and renewed concerns about the company's assets, including The Boston Globe.
Mr. Sulzberger, the chairman of the Times Company, told staffers "We care deeply about The Globe." But, he added, "more needs to be done."
Referring to the Pulitzers, Mr. Sulzberger said, "It is this commitment to excellence that will get us through this turbulent time." He admitted to the audience that the company doesn't make enough money off NYTimes.com to save "everything" but that executives are reviewing the analysis for paid content, including micropayments and subscriptions.
Mr. Sulzberger offered a huge vote of confidence for Janet Robinson, the company's CEO, whose compensation came under scrutiny yesterday, calling her an "inspirational leader" with "intellectual and psychological wherewithal" to get the New York Times Company Company through the tough times.
Ms. Robinson followed Mr. Sulzberger, and referred to cuts as "reinventing The New York Times." During the Q&A portion of the talk, Mr. Sulzberger said, "There are no plans to take this company private."
Update, 11:20 a.m.: This story has been updated to reflect the fact that Mr. Sulzberger addressed shareholders, not staff.