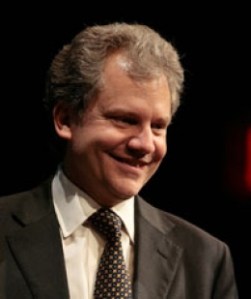 Today, Arthur Sulzberger, Jr. finally had to face the world.
This morning, from The New York Times' skyscraper on Eighth Avenue, Mr. Sulzberger hosted the Times Company's 113th Annual Shareholders Meeting. He spoke to the company's battered shareholders—most of those in attendance were geriatric or otherwise free at 10 a.m. on a Thursday morning—who desperately wanted to see if Mr. Sulzberger had plans to take the Times out of a financial crisis.
No new plans were revealed and he once again revisited the philosophy that executives at the Company have long repeated: We're The New York Times, and by virtue of that fact, it should all work out in the end.
Referring to the paper's five Pulitzer prizes, Mr. Sulzberger said, "It is this commitment to excellence that will get us through this turbulent time."
He admitted to the audience that the company doesn't make enough money off NYTimes.com to save the place, but that executives are reviewing options for paid content, including micropayments and subscriptions.
When asked about some form of pay model, he said "It is something we are very much looking at."
It was the first time since The Times decided to pull the plug on TimesSelect that Mr. Sulzberger has been so open about his consideration for a paid model for the paper's Web site. For well over a year, management at The Times has expressed if they kept content free, digital advertising dollars have followed. This past quarter, even with astronomically high traffic numbers compared to other newspaper web sites, digital revenues decreased.
Mr. Sulzberger also offered a rather significant vote of confidence for Janet Robinson, the company's CEO calling her an "inspirational leader" with "intellectual and psychological wherewithal" to get the Company through the tough times.
Mr. Sulzberger said he would not address questions about The Boston Globe, but said "We care deeply about The Globe." But, he added, "more needs to be done."
During the Q&A portion of the talk, Mr. Sulzberger said, "There are no plans to take this company private."