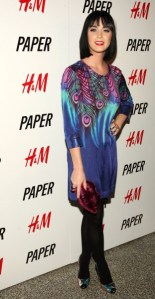 So many revelers turned out for Paper magazine's annual "Beautiful People Party" at the Maritime Hotel's Hiro Ballroom on Thursday, April 9, that even A-list heiress Lydia Hearst was turned away at the front door.
So, she took the back door.
The waifish 24-year-old model had been having dinner with her publicist, Ryan Brown, at chef Tadashi Ono's Matsuri restaurant inside the hotel. After dinner, the pair headed for the party, only to be told—sorry!—the place was overcapacity. They retreated back into the restaurant where an affable manager showed them the back entrance to the ballroom.
"They were like, 'Right this way!'" Ms. Hearst told the Daily Transom.
Some 4,000 people had sent in their RSVPs for the beauty-themed soiree, according to an email the party's organizers had circulated earlier that afternoon. The missive noted, "It is now someone's job to email a lot of people and tell them they can't come, which is kind of sad!"
A scheduled appearance by beauteous raven-haired rocker Katy Perry was the big draw.
"She's tongue-in-cheek and she's cute and she's awesome and she's worked her ass off to get where she is," gushed the designer Richie Rich, who was camped out along a rug-less "red carpet" area in advance of Ms. Perry's arrival.
The performer later showed up around 9:15 p.m. in a peacock-themed blue dress, black stockings and cherry red lipstick.
Ms. Perry and her band then hopped on stage for a short but sweet set of three songs, including her break-out smash "I Kissed A Girl" and a lively cover of the The Outfield's 1986 hit "Your Love."
"I love Katy Perry," said Ms. Hearst, decked out in a shiny sequined Phillipe and David Blond-designed dress. (The designers themselves were also in attendance.) "I wish she'd done more but…"
What does it mean to be beautiful?
"Honestly, it's about being comfortable in your own skin," Ms. Hearst said. "Like, if you're not confident in yourself, then you can't really look good on the outside."
"It's all about what's inside," added the actress Chrishell Stause of the ABC soap All My Children, who was wearing a gray Diesel dress and a sparkly necklace from a vintage shop. "I know that's what everybody says," Ms. Stause said. "It's kind of used and tired. But especially in this economy when you can't really maybe afford the finer things, you've got to rock the vintage or whatever. But you've got to do it with confidence. It's all how you feel."
"I think beautiful is being happy no matter who you are or whatever stage you are in your life," noted celebrity blogger Micah Jesse, sporting a Guns 'N Roses t-shirt and green Army jacket.
Mr. Jesse was the only member of the fawning press corps to get Ms. Perry to answer a question amid a multitude of flashbulbs on her way to the stage.
"What's beautiful to you?" Mr. Jesse asked.
"Life," Ms. Perry said with a smile.