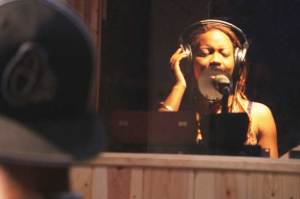 Jazz in the Diamond District
Running time 84 minutes
Written by Lindsey Christian and Sia Barnes
Directed by Lindsey Christian
Starring Monique Cameron, Erica Chamblee, Wood Harris
Lindsey Christian's Jazz in the Diamond District, from a screenplay by Lindsey Christian and Sia Barnes, is based on a story by Erica Chamblee, with revisions by Erica Chamblee and Andre Strong. The collectivistic complexity of this film's credits amply reflect a project as experimental, innovative and improvisatory as this distinctively D.C.-ish saga of two sisters and the musical world in which they are absorbed but not entirely fulfilled. As starved as I was for audience footage in A Wink and a Smile, I was close to being overpowered by the contagious enthusiasm of crowds responding to the funky versions of hip-hop numbers played by the film's District Legend Band. As long as the music is playing, and the magical smile of Monique Cameron's Jasmine "Jazz" Morgan is lighting up the screen, the film is hitting on all cylinders. But when the off-stage narrative grinds its way to a mawkish conclusion, the relative inexperience of the filmmakers becomes more evident.
As it is, the aforementioned Ms. Cameron, Ms. Chamblee as Jasmine's younger sister, Leah Morgan, and Andre Strong as stormy promoter and drug supplier "Flight" all make sparkling screen debuts. Wood Harris plays Gabriel "Gabe" Marx, the romantic lead for both sisters in turn, and Clifton Powell plays Blair Morgan, the physician father of Jasmine and Leah.
The film was shot in the seldom-seen-onscreen African-American neighborhoods of Washington, D.C., which are still laboring under the opprobrium of having been designated as the nation's "Murder Capital" in the 1990s. And though there is no gang violence in the film, the widespread use of illegal drugs is made to seem conspicuously commonplace in the area's music scene. One is left free to surmise that the district's gun violence stems from the trafficking in such drugs.
Yet the film does make a contribution to interracial understanding in this year of Obama by showing a highly segregated city as a livable middle-class venue in which career aspirations for its young people are far from unthinkable. Such community landmarks as Ben's Chili Bowl, the Atlas Performing Arts Center and the renowned Ellington School of the Arts are shown as the positive images of D.C. they are. In the end, the music, with its infectious energy, together with Ms. Cameron's onstage charisma makes Jazz in the Diamond District well worth seeing.
asarris@observer.com