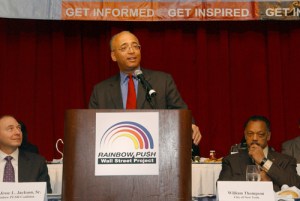 According to City Comptroller Bill Thompson, he is running for mayor.
"Everybody is saying, 'I'm seeing you everywhere around the city of New York,'" Mr. Thompson said on April 27 as he sat in a conference room upstairs from his Broadway campaign headquarters, which shares space with state court offices and a dentist. "I think as people start to see more from the campaign, that will have an impact on people."
Soft-spoken and unfailingly polite, Mr. Thompson promised that in the next week, he will roll out some impressive endorsements, however unnecessary he thinks such endorsements may be.
"I don't know that I have to do that," he said. "But I think that it doesn't hurt. I think what you want to do is continue to attract more attention."
Mr. Thompson, 55, hasn't gotten much attention so far, or made much obvious effort to seek it. And of the coverage he has received, some of it is of the distinctly unwelcome variety, most recently in the form of published reports connecting his office to the legal-but-odious use of placement agents in directing investments from the city's pension fund. He acknowledges that this is a short-term "distraction."
Still, he is confident that he'll be fine in the long term, in part because he thinks Representative Anthony Weiner, who was his chief rival for the nomination before releasing a credibility-killing statement about needing more time to think about whether to run, is staying out. ("There's a process and I don't know that you can jump back in at the end of May," Mr. Thompson said.) This, he believes, will give him time to organize and the opportunity to amass sufficient money to take on Michael Bloomberg.
But while Mr. Thompson finds his voice, Mr. Bloomberg is moving pitilessly along. He's hired an all-star campaign team, spent more than $7 million (to Mr. Thompson's $1.3 million) on the campaign already, hired and debriefed Mr. Thompson's former strategist, Hank Sheinkopf, and has sought, with some apparent success, to win over or neutralize the most prominent public figures in Mr. Thompson's party, including Bill Clinton and Barack Obama.
Mr. Thompson's response so far has been to adopt the posture of a common man up against an unfeeling billionaire from Manhattan. His message is that he "is going to represent all New Yorkers."
There are a couple of problems with this. One is that an indignant-populist campaign runs counter to Mr. Thompson's collegial persona, which has been a source of professional strength for him throughout his career in local Democratic politics. Even in the most divisive environments—at the city's Board of Education, for example, or in a primary for comptroller—he consistently emerged as the guy everyone can agree to like.
The more serious problem, though, is that that particular line of criticism of the mayor, however accurate, doesn't work so well. As Freddy Ferrer learned in 2005 with his "two New Yorks" campaign, New Yorkers are more than capable of understanding that Michael Bloomberg is nothing like them and still voting for him.
Mr. Thompson says that his message is different, at least by degrees.
"It's not two cities," said Mr. Thompson. "Ninety-eight percent of New Yorkers against the other 2 percent, I don't think it's a two-city strategy. It's a strategy that talks about the need to have all New Yorkers represented."
Mr. Thompson also argues that circumstances are very different than they were when Mr. Ferrer ran. An economic crisis is causing an existential crisis for the struggling middle class; the overturning of term limits has highlighted the mayor's autocratic tendencies; and the Democratic Party is in the ascendant everywhere. And he says that his substantive policy positions—he opposed the mayor's proposal to toll East River bridges to raise money for the M.T.A., advocated for the reduction of water rates, and has called for public investment in the welfare of small business and the self-employed—will allow him to run as a champion of the middle class.
MR THOMPSON'S MOTHER, who died last year, worked as a public-school educator, and his father, Willie Thompson, is a former state senator, a council member and a state appellate judge who barely lost a 1968 Congressional race to Shirley Chisholm. He's been married three times, most recently to Elsie McCabe in September, has an adult daughter and 11-year-old twin step daughters.
AFTER ATTENDING public schools in Brooklyn, Mr. Thompson graduated from Tufts University, going on, in 1983, to become the youngest deputy borough president in city history. Mr. Thompson briefly went into the private sector, working as a banker for the investment firm George K. Baum & Company.
("He was considered a competent banker, was well liked and made pretty good presentations," said Councilman David Weprin, who is running to replace Mr. Thompson as comptroller and who overlapped with him on Wall Street.)
Within a year, Mr. Thompson returned to public life as Brooklyn's representative on the Board of Education, of which he later became president. In its endorsement of Mr. Thompson for comptroller in 2001, The New York Times editorial board cited the "quiet progress" of the board during his tenure, (He is currently pushing to devolve some power over school's from the mayor's office back to an appointed board.)
His tenure as comptroller is usually described as a competent one. Until recently—when he launched an attack on an "insane spending spree" by the Department of Education, only to back down when it turned out his numbers were off—he and the mayor got along relatively well.
ON THE EVENING of April 23, nearly 100 members of various Queens Democratic clubs gathered between the indigo-painted walls of the Menchel Social Hall in the basement of the Hollis Hills Jewish Center to snack on hamantashen and marble cake and hear Mr. Thompson, who was running late to his third Democratic forum in Queens that evening. 
Once he arrived, he went right into his stump speech.
"I think it is important to have a mayor who represents us for a change," he said.
Wearing a loose-fitting gray suit, cobalt tie and white shirt, Mr. Thompson said the room had been "lucky" for him in the past, and tried to pump up the crowd by equating his 2001 comptroller primary fight against Herbert Berman, the former councilman, to the Herculean task of challenging the best-funded mayor in city history.
"I was outspent by two and a half, three to one," he said. "He had Wall Street on his side. I had the people on my side."
Mr. Thompson received a couple of rounds of sustained applause, one thanks to his reference to high water charges. His hurried speech revealed a verbal tic in which he stated "no" before affirmative statements. ("And no, I started as comptroller." "So no, as comptroller, I make sure city services are delivered.") He spoke about the day Mr. Bloomberg overturned term limits as if it marked a widely recognized citywide tragedy. "I'll always remember that day," he said somberly, adding that he was nevertheless emboldened to run for office by protesters who lined up with him in the aftermath of the decision and screamed, "Don't undermine our voice."
At that point his microphone momentarily went dead. One man fanned his face with a Thompson flier.
"How do you beat the richest person in New York City?" Mr. Thompson later asked the crowd. "Exactly," mouthed Penny Laforest, a teacher from Glenn Oaks, who sat in the back row.
At 9:20 p.m., Mr. Thompson left the synagogue and got into a waiting black hybrid SUV. He was trying, somehow, to make it to a series of Democratic-club forums a scheduler had slated for him in Manhattan that night.
It started off inauspiciously, with the driver turning himself around on Union Turnpike.
"You could have taken the Clearview," said Mr. Thompson, who demonstrated an intricate understanding both of the expressways and places to get tasty food in all five boroughs. (He likes the roast pork at "El Gran Castillo De Jagua," near his old place in Brooklyn.) He asked the driver to turn from talk radio to 101.1 and listened to the Beach Boys sing "Good Vibrations." When the driver finally ended up on the Grand Central Parkway going west past the new Mets stadium, Mr. Thompson said, "I'm not sure I would have named it Citi Field." He fondly recalled attending games at the recently demolished Shea Stadium when he was in junior high school.
Mr. Thompson looked at the time on the car's dashboard and joked with his campaign manager, Eduardo Castell, about a campaign volunteer with a tendency to call in a panic about the shrinking attendance at advance locations.
"Billy, it's Kirk—you've got 20,19, 17 people," Mr. Thompson said, putting on a fake nasal voice. 
A few minutes later Mr. Castell's phone rang.
"That was Kirk," he said. "They're done at Ansonia."
Mr. Thompson took a breath but rolled with the news as a fact of campaigning. He talked about how he opposed the deal for the new Yankee Stadium because of "the stupidity of the thing with the luxury box" and complained that high ticket prices would stymie the formation of future baseball fans.
"If you can't afford to bring your family to the game, you are not bringing up the fans of the future," he said. Asked if Mr. Bloomberg understood that—a hanging curve—Mr. Thompson said, meaningfully, "I don't think that he does."
AT 9:50, as the SUV rolled along 121 Street in Manhattan, Mr. Castell got another call.
"Tell me quick, brother—my phone's dying," he said.
"Oh, that really sounds not good," said Mr. Thompson.
"Can he come by another time?" asked Mr. Castell.
"Uh oh. Ho, ho, ho. Tell me it's not Broadway. Is that Broadway?" said Mr. Thompson, referring to one of the Democratic clubs he was scheduled to attend.
"It's Broadway," said Mr. Castell.
Mr. Thompson sighed and said he understood that the club members, given the late hour, wanted to get going. This time he returned to the nasal voice and imitated a member saying, "'It's 10 o'clock, I want to go already.'"
A few seconds later, Mr. Thompson, in his own voice, added, "I'm a little down about that one. Darn." The whole week he said, people had been saying, "I'll see you at Broadway Dems.  See you at Broadway Dems. See you at Broadway Dems. Darn."
A little after 10 p.m., Mr. Thompson arrived at the Community Free Democrats Candidates Forum at the Goddard Riverside Community Center on Columbus Avenue. On the ground-floor cafeteria, 17 members sat surrounded by empty chairs and Happy Birthday signs.
Mr. Thompson jumped in front of them and drew a dramatic boy-are-my-arms-tired breath. Sharon Silberfarb, 77, looked at her watch from the front row.
"Let me do this in condensed fashion," Mr. Thompson said, starting his stump speech again. At one point, the members hushed the flacks and politicians, including the comptroller candidate David Yassky and Manhattan Borough President Scott Stringer who joked around on the side of the room.
"In the end, people beat money," Mr. Thompson said.
"Aren't they going to fine us for being here so late?" interrupted Ms. Silberfarb.
After Mr. Thompson's speech, Ms. Silberfarb made a face when asked what she thought of Mr. Thompson's presentation. "He's got to develop," she said.
When asked who she planned to vote for, she said she wasn't quite ready to say.
Then she said, "I really think Mike Bloomberg is unbeatable. There's Bloomberg with his stuff on TV already. He's got everything going for him except term limits."