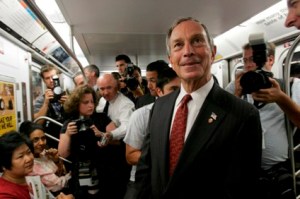 Michael Bloomberg said the best way he can push state lawmakers to permanently fund the M.T.A. is to do it "outside the glare of the camera."
During the mayor's Q&A today after an event in Washington Heights, he was asked about a story in today's New York Times that reported Bloomberg hasn't been willing to reach out to state lawmakers—specifically Republican state senators—to pass legislation to fund the troubled agency. (Bloomberg, in the past, has been a generous donor to the Senate G.O.P.)
"I did work very hard to get Democratic votes for congestion pricing and I'll work very hard to get Republican votes for the current plan. But you don't do that, once again, in front of the cameras."
Bloomberg added, "This is not about me."
Later, I asked Bloomberg if he'd be disappointed if the three Republican state senators from the city—Frank Padavan of Queens, Marty Golden of Brooklyn and Andrew Lanza of Staten Island—wind up voting against the current plan.
(They have not been receptive so far.)
"I don't even know that they'd be given the opportunity to vote. I don't know why you'd jump to that conclusion," he said. "Generally, the out-party doesnt even have a vote."
Bloomberg said, "If Republicans want to join in, I'd certainly encourage them to do so."