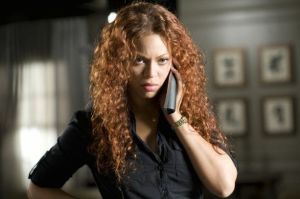 That glow you see at the top of the box office probably has something to do with Beyoncé's halo. The recording star scored her biggest non-Austin Powers opening yet, helping the ridiculous Obsessed bring in $28.5 million to top a crowded field that included three other newcomers. Considering the film was only expected to bring in half that number, this qualifies as one of the more shocking debuts in a year that has been filled with shocking debuts. The last weekend of April is traditionally a dead spot for Hollywood, as studios gear up for the summer movie season. But, powered by Obsessed, this one will become one of the more lucrative in recent years. Returns were up 32 percent from last year when Baby Mama opened with $17.4 million, and up a crazy 76 percent from 2007, when Disturbia stayed at number one with $9 million. As we do each Monday, here's a breakdown of the top five at the box office.
1. Obsessed: $28.5 million ($28.5 million total)
Idris Elba, box office superstar! Er, well, not really. As much as we like the former Stringer Bell (and Beyoncé for that matter), credit for this opening must go to the marketing department of Sony Screen Gems. They treated Obsessed like a one-off slasher film and reached their desired audience—58 percent was female, 51 percent over the age of 25. Before everyone gets too excited though, consider how slasher films usually depreciate at the box office. In February, Friday the 13th opened with $43.5 million over Presidents' Day weekend and dropped 80 percent the following week. We don't expect as big of a fall for Obsessed, but unless the word of mouth is stellar expect a sizeable tumble next week.
2. 17 Again: $11.7 million ($40 million total)
Zac Efron's movie stardom tour continues to roll along, as 17 Again dropped 51 percent from last weekend to land in second place. While that might seem steep, remember that the similarly themed 13 Going on 30 crumbled 53 percent in its second weekend and still wound up with $57 million in total grosses. We might be blinded by by The Efron and his floppy bangs, but we think 17 Again has another $25-30 million left in its coiffeurs.
3. Fighting: $11.4 million ($11.4 million total)
Yawn. While under any metric, $11.4 million for a movie about street fighting has to be considered a win, something about this number screams apathy. The problem here is that while the Channing Tatum vehicle was positioned as an opportunity for women to see the beefy star sans shirt, exit polls showed that males made up 58 percent of the audience; all the girls were too busy seeing Obsessed. Better luck next time.
4. The Soloist: $9.7 million ($9.7 million total)
As much as we'd like to spin this opening into something positive— The Soloist will have legs and wind up grossing close to $50 million, just you watch!—we can't do it in good faith. This is a bomb. When other adult-minded pictures like State of Play and Duplicity find themselves opening up in the teens, anything less than that is unacceptable. Blame Paramount: while the reviews weren't through the roof, they were still good enough to play last November, when the film was originally scheduled (The Soloist has a respectable 61 percent Fresh rating on Rotten Tomatoes). Opening The Soloist in the spring felt like pushing a square peg into a round hole. This is a fall movie, plain and simple.
5. Earth: $8.55 million ($14.2 million total)
Reason number 2,168 to buck the trend and buy Disney stock: they were able to pull in almost $9 million this weekend for a movie that is ostensibly a feature length version of a television show people could have watched for free.